The BMW Z3 is a turn-of-the-century charmer with an old soul
Part of my job here at Hagerty involves being an ambassador to the hobby at collector car tours and rallies all over the country. This gives me the opportunity to exercise my own cars, as well experience a few new ones along the way. A couple of months ago I was invited to attend the Texas 1000 Rally as a co-driver with my friend Ramsey Potts from RM Sotheby's. He was picking up the entry fee, so I offered to find us an appropriate vehicle to blast around Texas hill country for five days or so.
This time, I wanted to explore renting something fun from Hagerty DriveShare. You've got to walk the walk, right? Finding some options between San Antonio and Austin took only a few keystrokes, and I was quickly browsing options.
I wanted a car that had a manual transmission, was factory-built to handle a curvy road without being stressed about it, and could carry a small bag or two. Maybe even something I'd never driven before. I was considering the usual suspects—a Porsche 996 and Boxster S had immediately jumped out as options—but then I spied a tidy little BMW Z3 roadster. It was an early 170-hp 2.5-liter six-cylinder model, despite the "2.3" badge that BMW puts on the rear. I've never driven one, although many of my friends have enjoyed them for years. This would be great. Plus, renting from DriveShare saved me the hassle of transporting my own car halfway across the country and back for a short-term event.
I contacted the owner and let him know my plans for the week, he approved the extra miles, and the deal was done. A few weeks later, my co-driver picked me up at the airport in Austin and we went straight over to pick up the BMW. After a little safety talk and a walk around, the keys were mine and off we went.
The smiles began the minute I sat down in the driver's seat. There is nothing better than being in a convertible with your arm resting comfortably on the top of the door, and the proportions of the Z3 work great for this. Frankly, the Z3 felt more like an old car and less like one built around the turn of the millennium—and that suited me fine. Your right hand also drops right down to the shifter, just like it's supposed to. With nice clear gauges framed behind a well-proportioned steering wheel, the Z3's cabin was an easy place to rack up some miles.
Once the rally began, Ramsey and I took turns driving and navigating. We were really more into the event to facilitate the enjoyment of others, so our actual score wasn't a big deal. I wasn't expecting much out of 170 hp, but the Z3 only weighs about 2600 pounds without passengers, and it had more torque than I expected. Combine that with a true three-pedal experience and the little roadster was a ton of fun. The old adage of the fun of "driving a slow car fast" certainly applies here, though the Z3 is no slowpoke. From twisty two-lanes to a maniac high-speed toll road, it did all we asked it to.
The Z3 had an optional wind baffle installed behind the driver and passenger seats, so it was very comfortable to spend a few days in. Normally I don't like these kinds of add-ons, but it probably made it a lot easier to run with the top down and the heater on through the hills and valleys of Texas.
The BMW was clearly the cheap-o entry to the rally, as we saw several vintage Ferraris valued in the millions. What was nice about the BMW was its design. The Z3's lines are timeless, and the roadster communicates "I'm just here to have fun" better than many other cars on the road. It did everything we asked it to and then some, top up or down. If you're in the market for a sporty, reliable, and inexpensive car, you should absolutely consider one of these. (You can buy one for less than $9000.)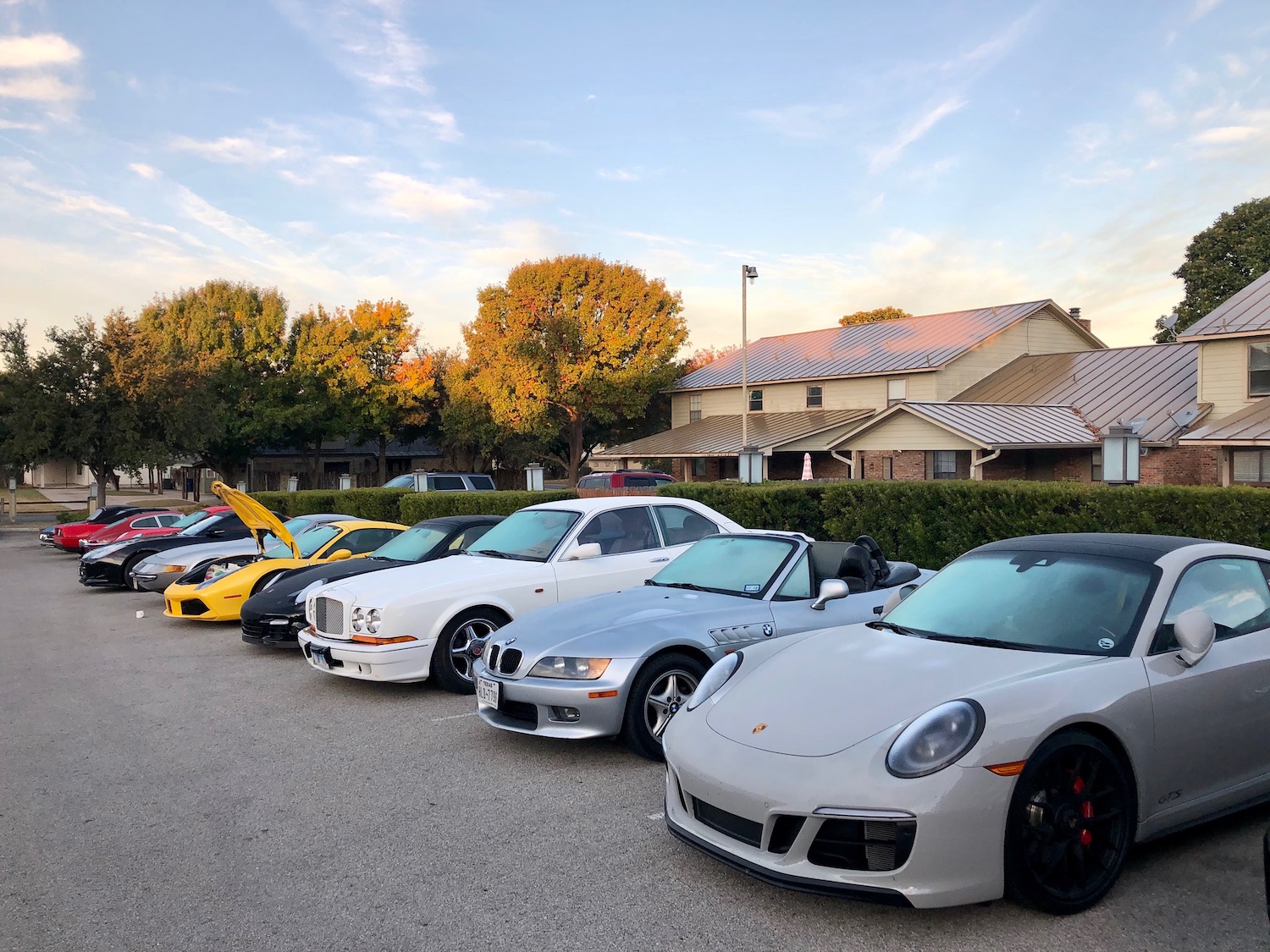 Naturally, we had to personalize our experience slightly. We pulled over for photos somewhere in the middle of nowhere and decided this ancient animal skull needed to come with. While we would have loved to have installed an official set of Texas-style horns on the hood, we did have to return it in the condition we rented it.
Our only uh-oh moment came somewhere on day three, when we bypassed a gas stop without realizing this was the afternoon's only easy stop. Ever seen that old Seinfeld episode where Jerry goes "beyond the slash" in his Saab 900? We were there. I then added "fuel economy" to my list of things I liked about the Z3, because that light stayed on a loooong time before we got to another station and filled the tank.
All good things must end, so at the end of the rally it was time to gather my belongings and drive the Z3 from our last hotel in San Antonio back to Austin. So, about that luggage capacity. The trunk (boot, let's keep it real) can hold a couple of soft-sided bags, but my giant suitcase (aka "Big Bertha") would never have fit if I had a passenger. Fortunately, Mr. Potts of RM Sotheby's was staying on in Texas for a bit, so I could use all available space.
Dropping the car back off to the owner to complete the DriveShare rental was a snap. Should you follow in my footsteps, I'd definitely suggest taking pictures of the car on your adventures and sharing them with the owner. Not only can you share the fun you had, the owner can see that you looked after their ride.
So what can I say? I really enjoyed my time with the Z3, and if you haven't driven one you probably ought to. While the 170-horsepower version I had was just fine, the same model year boasted a 190-hp 2.8 liter option and later years had even more power, including the truly wonderful M versions. Wonder if there's a Z3 M on DriveShare near me…