At 50, the Datsun 240Z is still making dreams come true
Dawn breaks on a clear Sunday morning in Yokohama, Japan, as Taketora Fukuchi rolls open his garage door. It has been a long week at work, plus evenings are busy caring for his elderly father. Today, though, he has time. Time to entertain a dream he's had since childhood. Fukuchi slots the key into the ignition and turns it.
Five thousand miles across the Pacific, Ray Carroll also twists an ignition key. For Carroll, several times zones away in Vancouver, British Columbia, it's early Saturday afternoon. The sound of the straight six sparking to life brings an instant grin to his face.
Taketora and Carroll have never met. There's an ocean of time, geography, and culture that separates them, yet they understand something fundamental about each other. They speak the language of Z.
The birth of the Z
Unveiled at the Tokyo Motor Show in 1969, the Nissan Fairlady is 50 years old. Released on North American shores as the Datsun 240Z shortly after its debut, it became one of the greatest successes of the Japanese motoring industry. The earlier Toyota 2000GT proved Japan could build a beautiful sports car, but it was, and remains, prohibitively expensive. The 240Z was the car an average person could afford.
Exiled to America for the crime of being a little too enthusiastic about motor racing, Nissan executive Yutaka Katayama was the sort of historical figure you'd want to have a round of beers with. He was doggedly diligent in his work, yet also infectiously enthusiastic about cars. After a few years slinging tiny pickup trucks to Japanese gardeners in Los Angeles, he had become fully marinated in Southern California car culture. Japan was his birthplace, but America felt like home.
Mr. K, as everyone called him, pushed hard for a proper sports car from Nissan. He knew it would elevate the growing brand's standing in the U.S. While many on Nissan's executive board weren't well pleased with Katayama's enthusiasm, he'd also championed the Datsun 510, which was turning out to be an unqualified success. Mr. K. pointed to the Jaguar XKE as the archetype for what he was pushing for, just as the 510 had become "the poor man's BMW."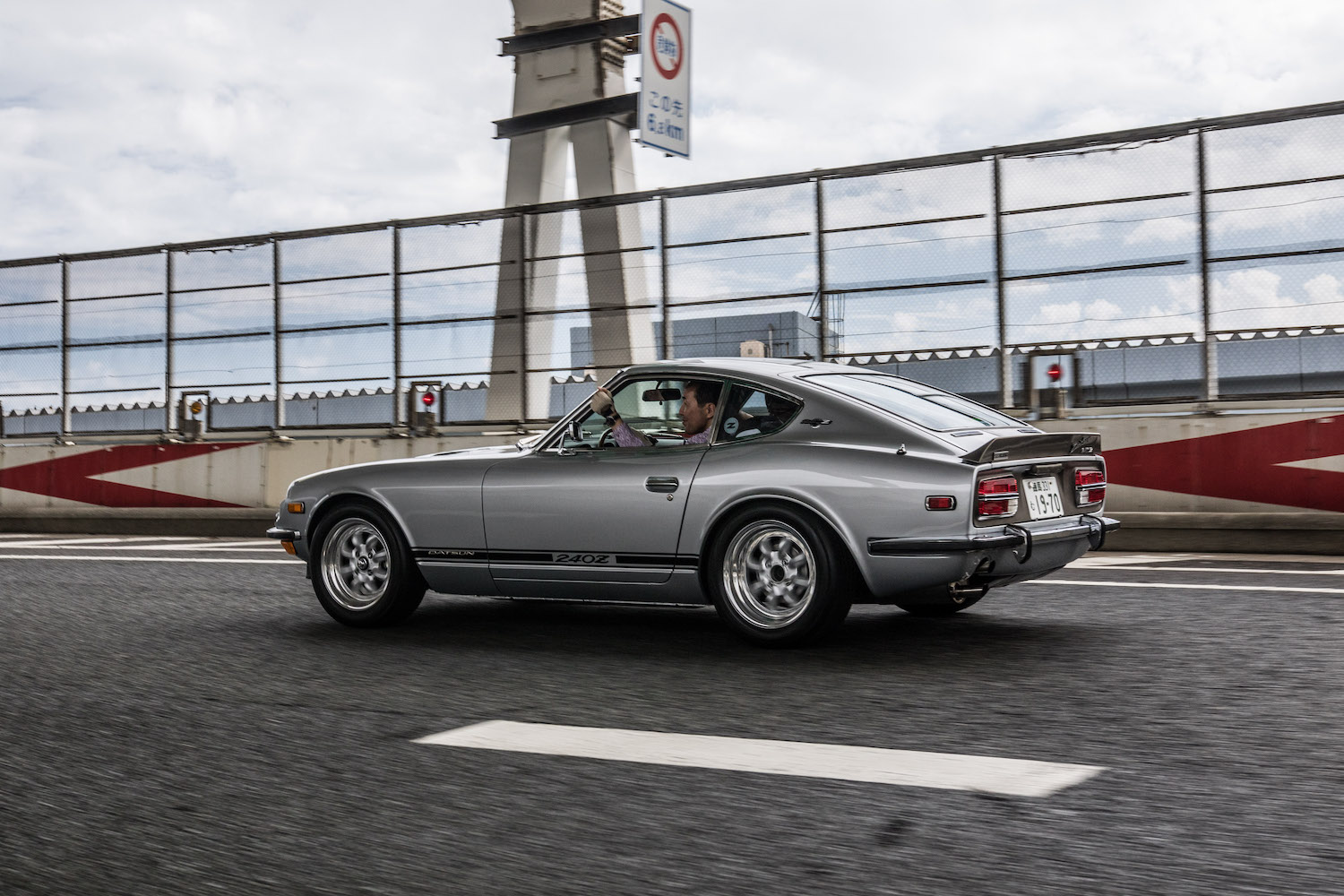 There are still some argumentative rumbles about how the 240Z's genesis came about, but there is no doubt the car was an all-Japanese design led by chief designer Yoshihiko Matsuo. Like Katayama, Matsuo was also something of a corporate rebel with a penchant for sports cars. If you look at Matsuo's early sketches from 1965, the embryonic Project Z looks a little like a Lotus Elan—officially, he was only supposed to be working on an open-topped replacement for the Fairlady roadster. When Matsuo later sketched out a fastback version, the first seeds of the Z car were sown.
On a trip back to Japan, Katayama saw Matsuo's work and knew it was what Datsun needed in America. He took it to the executives and fought for it. There is an apocryphal tale that has him prising the "Fairlady" decals off the first shipment of cars himself, and replacing them with Z badges instead. Whatever the truth is, by the beginning of the 1970s, the world was already in love with the Z.
A daily dose of Z
Back in Vancouver, Carroll doesn't remember the first time he saw a 240Z, but he does remember the Z from his youth. It was a wild machine, wide-bodied and hopped up. As a youth in the 1980s, it was both a ticket to freedom and something of a gateway to trouble. Still, he managed to stay mostly out of harm's way.
After getting married, he sold the car. Even if the marriage didn't last, memories of the Z lingered in the back of his head. A couple of years later, as he was proposing in Italy to his current wife, the utterly romantic moment came with an extra request.
"I told her, there's just one more thing," Carroll says, laughing, "I want to buy a Z."
The search took a while, but he stumbled across his current car on America's East Coast. Freshly restored, it's flawless inside and out, and it has a little American flavor to it; the raised-white-letter BF Goodrich tires are a match for the set Carroll had on his Z in the 1980s.
Carroll stands 6-foot-4. His friend's vintage 911 sometimes feels a little cramped. Part of the genius of the Z's design, however, is the way the production team lowered the floor to allow for more room inside for American-sized drivers. You won't fit in a Toyota 2000GT unless you're under six foot and have had a recent haircut. Matsuo wasn't happy with the tweak to his initial design, but it made the 240Z work for (quite literally) a larger audience.
Carroll went through the extensive process to get collector plates on his Z, a move that comes with a break in insurance rates but also some restrictions that forced him to drive less than he wanted. "I found that I just wasn't driving the car. As a consultant, I work from home, but sometimes I visit clients, and I wanted to really enjoy the car."
So Carroll put the plates back to standard, and now he drives the Z daily outside of the winter months.
"Every time I get in it," he says, "I get to experience that feeling again."
Working for the weekend
Thousands of miles away, Taketora Fukuchi meets me in Daikoku Parking Area, a broad tarmac rest stop in Yokohama. Accessible only from elevated toll highways that crisscross Tokyo, this is the unofficial nerve center for car culture in Japan. On Sunday morning, it's humming with cars, from a squadron of TVRs, to multiple Lamborghini Countaches, to a Lancia Stratos. And many, many Zs.
Fukuchi-san is an officer with the S30 Z car club of Japan, and he's brought along a few other members. One of them, Akira Takeuchi, drives an incredibly rare Z432R, the Z-car with a GT-R's 2.0-liter, dual overhead cam engine.
Fukuchi's car is even rarer. It's one of the 37 cars restored and sold by Nissan in 1997 in select U.S. dealerships under the Vintage 240Z program. Highly sought after by dedicated Z fans, a few have made it across the Pacific to Japan.
"When the S30Z was announced, it was almost a dream to buy a private car for ordinary households," Fukuchi says. "The 2000GT was a car in the movie, and [wanting a] Z was a longing that I would reach if I stretched out my hand."
He shows me the redone brochures for his car and the club stickers on the back. Clubs of all kinds are very popular in Japan, and the Z club is very active. Fukuchi doesn't get much chance to drive his car, as his corporate job is all-consuming (as is also typical in Japanese culture). However, this car is a link to his college years, when he drove a 1978 Fairlady.
Fukuchi ticks off an impressive list of cars he's had over the years, including a race-prepped rear-drive Corolla GT-S he campaigned in the 1980s and '90s. "As I get older, I like fast sedans and still value the 2018 M3CS and the 1993 M5. But only S30Z is exceptional."
For both Carroll and Fukuchi, the Z still fulfills the dreams its creators intended it to. It is a daily reward for one, a special treat for the other. For both men, and for thousands of owners, a Z is a machine that's both special and accessible. A sports car for all, united by a love of driving.