The much-maligned AMC Gremlin is gaining legitimacy as a collector car
Maybe it's fate that a car sketched on an airsickness bag, named for a mythical creature that destroys machines, and launched on April Fool's Day was predestined for a life of Concours d'Lemons trophies and appearances on "worst cars " lists. So it goes with AMC Gremlin.
Introduced on April 1, 1970, the Gremlin was a solid success for AMC, yet in later years it became both a punchline for comedians and the de facto symbol of high-school nerdiness on TV and in films. Jerry Seinfeld's Comedians in Cars Getting Coffee, Season 4/Episode 5: "Jon Stewart: The Sound of Virginity," pretty well sums up that theme.
As often happens with old and imperfect things, however, fond memories bubbling to the surface have elevated the Gremlin's stature among serious collectors… seriously. Comic ventriloquist Jeff Dunham, whose varied collection includes the George Barris-designed "Calico Surfer," "Voxmobile," and two Batmobiles (as well as modern supercars), owns two Gremlins. He even brought his AMC duo for an episode of Jay Leno's Garage. As Dunham told Leno, "I like cars that start conversations."
Dunham's Gremlins include an all-original, 14,000-mile 1972 six-cylinder model and a '73 with perhaps the best-known Gremlin option, the Levi's package. The interior mimicked Levi's denim jeans, including snaps, tags, and pockets. The material was actually spun nylon, since denim did not meet federal fire safety standards.
Both of Dunham's cars also have the "X" package, which gave the Gremlin a quasi muscle-car persona with bucket seats, slotted wheels, Goodyear white-letter tires, body side stripes and graphics, and a blackout grille. The '73 carries the Gremlin's ace in the '70s subcompact game: a 150-horsepower 304-cubic-inch V-8 that was a new option for '72.
That year only, V-8 models featured a "torque link," a kind of traction bar to control wheel hop. The 2900-pound V-8 Gremlin was good for 0–60 mph in about 9 seconds and the quarter-mile in 16.8, quicker than base-engine V-8 pony cars.
A rare plum of a Gremlin
Recent events in the Gremlin world might be shifting the conversation from Concours d'Lemons trophies to more serious accolades. At the 2018 Muscle Car and Corvette Nationals in Chicago, a Gremlin won a Platinum Pick Judge's Award and Concours Gold. This one was considered a rare catch by AMC cognoscenti, a 1972 X model in Wild Plum with the V-8 and three-speed stick. In this case, it was caught by The Brothers Collection, a huge Pacific Northwest stash of top-tier muscle cars, and was fully restored by Gary Riley's Level One in Arvada, Colorado.
"This was the same as the brochure car," says Ian Webb, president of the American Motors Owners Association (AMO), which participated in the car's MCACN unveiling. "The ultimate would be this combination with the 'Fun in the Sun' zipper top, a fabric sunroof that's almost the whole roof."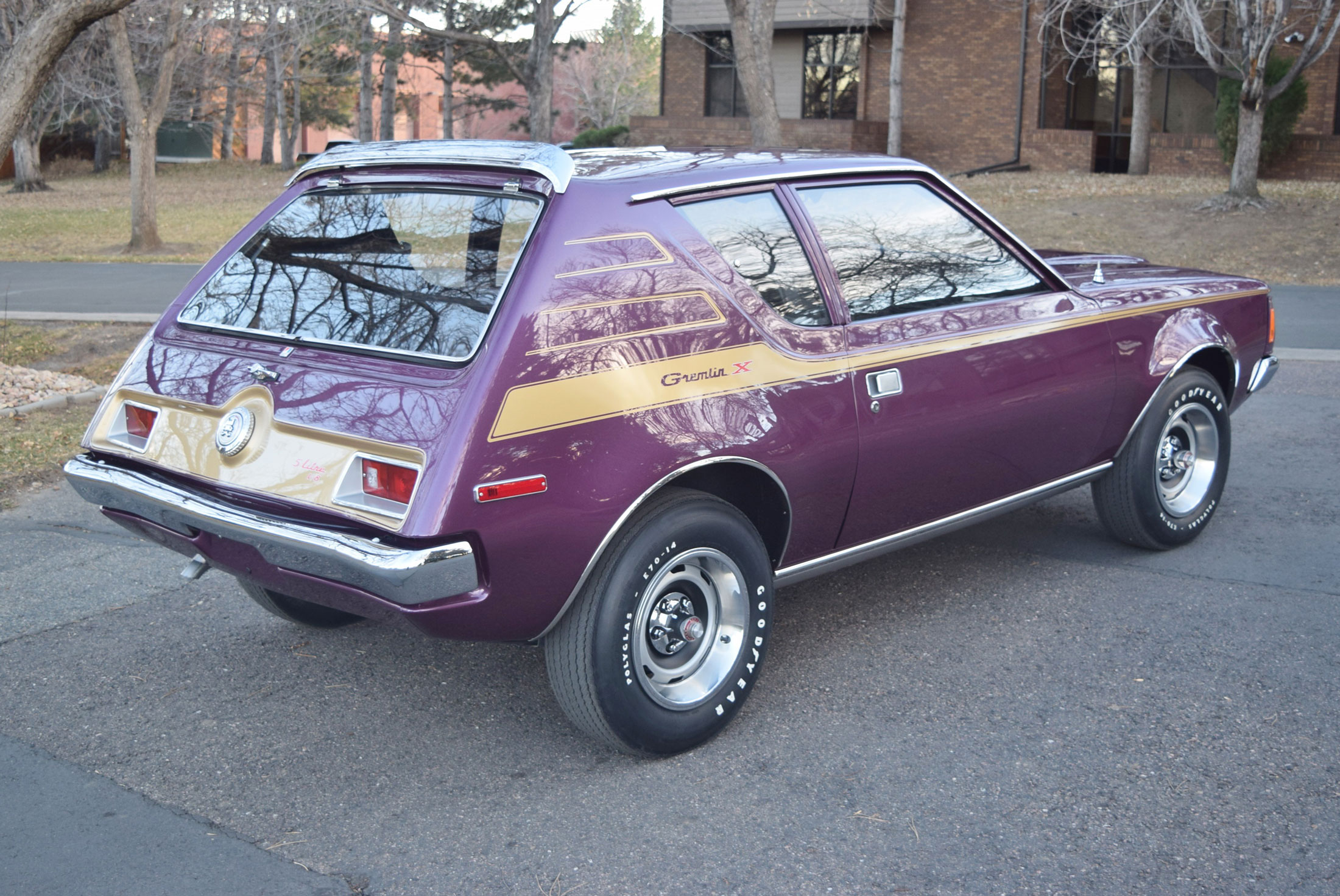 The Brothers' Gremlin was one of 13 classic AMCs in the club's show display. Keeping it company was a unicorn, a 401-XR owned by Bob Hoogstra. From 1972–74, with the factory's blessing, Randall AMC in Mesa, Arizona, equipped 21 Gremlins with a 401-XR package (one as a drag car), swapping out the 304 V-8 for AMC's 255-hp 401, which had the same block dimensions. The 401-XR could do the quarter-mile in the high 13s. Car Craft magazine ran low 12s in a version equipped with Randall's performance options.
In case of turbulence…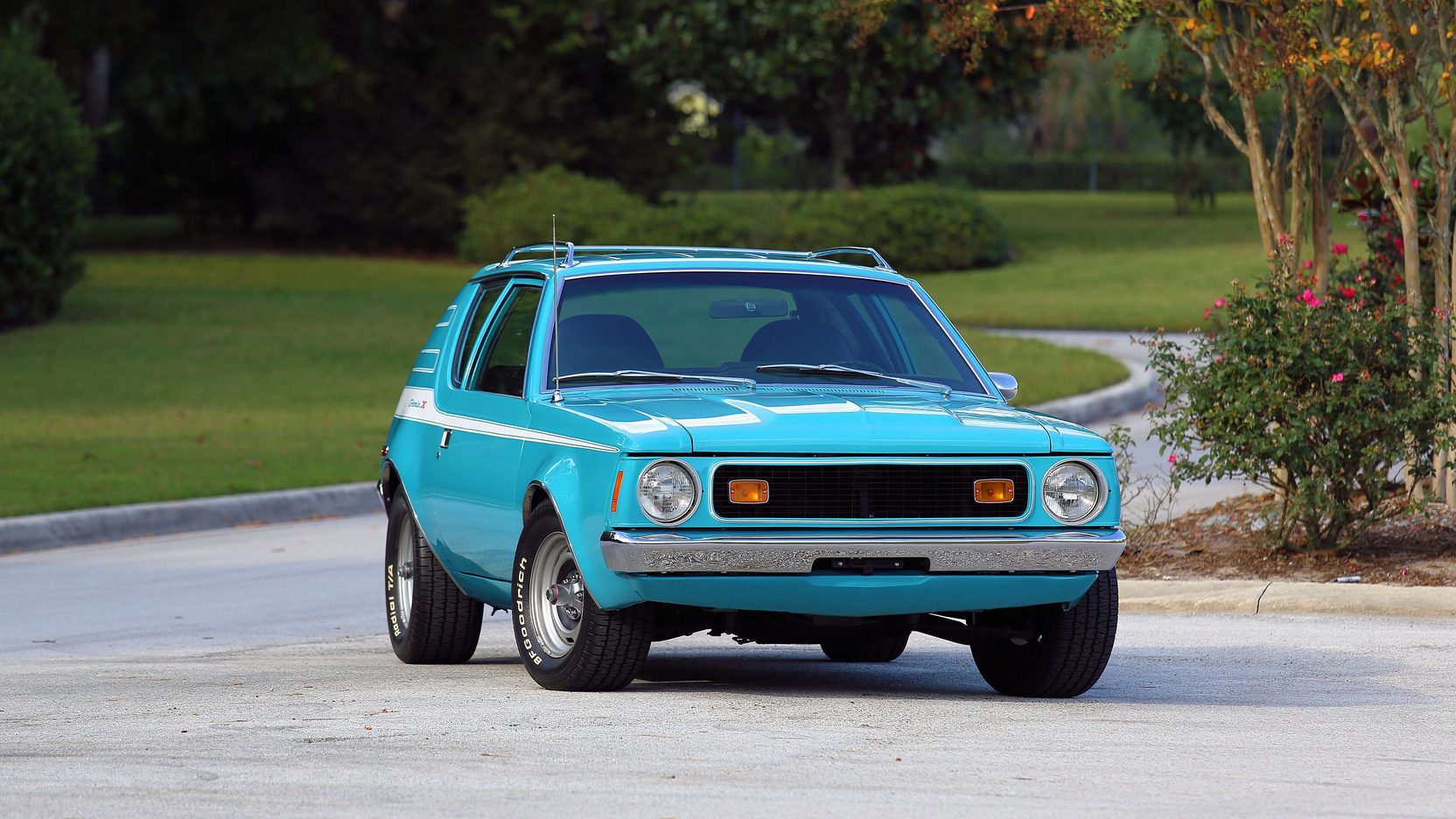 On a flight in 1966, AMC design chief Richard Teague showed the VP of product development the basic idea for a small car by sketching it on an airsickness bag. Designer Bob Nixon, who passed away earlier this month at age 86, had already been working on the concept. The public got its first glimpse of the design's signature slant-back tail on the 1968 AMX GT show car, a message to perhaps suggest, "This shape is cool."
"The Gremlin is distinctly AMC," Webb says. "Some of their designs could be love/hate, but they had to be distinct to stand out in the market."
Without the resources to tool up an all-new subcompact, AMC did a "twofer." Just as it had sliced 12 inches out of the 1968 Javelin's wheelbase to create the shorter, two-seat AMX, it did the same to the 1970 Hornet (while also clipping the rear) to make the Gremlin. This manner of parts-bin engineering enabled AMC to beat the Ford Pinto and Chevy Vega to showrooms by several months.
Built on a 96-inch wheelbase and stretching a fraction over 161 inches, the Gremlin was two inches longer than the VW Beetle. The Hornet's front section accommodated the AMC's smooth inline-six, touted as a major advantage over competitors' four-bangers. A 128-hp, 199-cu-in version came standard, and a 232 with 145 hp was optional. The standard manual transmission was a three-speed.
Car and Driver got 0–60 in 10.5 seconds in a 232 manual Gremlin, much quicker than rivals. The Gremlin was nose-heavy, and the truncated Hornet rear section necessitated shorter leaf springs, making for a choppy ride. For 1971, the 232 became standard and the new 258 was optional.
Beetle beater… with a racing pedigree?
AMC's internal training materials emphasized Gremlin's "American standards" of comfort, convenience, performance, ventilation, heating, crosswind stability, and "adaptability to American road systems and driving patterns." Clearly, AMC was aiming at the Beetle's known shortcomings when it developed the Gremlin as a competitor.
The Gremlin's $1879 starting price (for reference, that's about $11,861 today) bought a stripper with two seats, rubber floor mats, no glove box door, vacuum-operated windshield wipers, and 13-inch wheels. The rear window did not open on this low-line model; you loaded luggage through the doors. One ad claimed, "If you can afford a car, you can afford two Gremlins." Just 3000 of these cheapos were sold. A model with a back seat and flip-up rear window was just $80 more.
Gremlin's option selection reflected American buyers' tastes and included a three-speed automatic transmission (Chrysler's TorqueFlite after 1971), power brakes and steering, air conditioning, Twin Grip differential and a handling package. The Visibility Group added electric wipers, remote-control side mirror, and a day/night rear-view mirror. For 1972, the list grew with the V8, AM/FM stereo, tilt steering wheel and front disc brakes.
AMC dropped the V-8 after 1976, and in '77, a 2.0-liter Audi four-cylinder joined the lineup— basically a carbureted version of the Porsche 924 engine. A slick nose job for 1977 better integrated the 5-mph federal bumper.
Some scoffed at AMC's "performance car" claim for the Gremlin, but it boasted racing provenance. The carmaker backed three NHRA Pro Stock drag race teams, and a factory-backed team won IMSA's RS road race series in 1973 with the 232 inline-six. An independent team won in 1974.
Life after malaise
AMC built Gremlins in Kenosha, Wisconsin, and Brampton, Ontario. Production peaked at 171,128 in 1974 and total reached 671,475 through 1978. Webb credits the Gremlin's marketing imagery, crafted around the mischievous mascot, with supporting the car's success. The Gremlin lived on, redesigned as the 1979–83 AMC Spirit and its 4WD Eagle derivatives.
"The Gremlin probably has the most reach into the culture of any AMC model," Webb says. "Everybody recognizes the Gremlin. Everybody seems to have a story."
Webb, who grew up in an AMC family with a business that restored cars and sold parts, has restored a few Gremlins, including an AACA Senior Award winner. A '72 V-8 model became Webb's temporary daily driver when his main car was in a collision.
"I put 5000 miles on it in a summer," he says. "I even took it to the Woodward Dream Cruise—75 mph all the way on bias-ply tires. Just going to a gas station was a 20-minute ordeal, because people always came over to ask questions."
The Gremlin's throwaway nature makes good ones fairly scarce today. While AMC mechanical parts, some of which came from other carmakers, are not difficult to get, interior and trim parts can be. For example, the large, one-piece 1970–73 grille can cost $1000. Weather seals are available, and so are reproduction Gremlin X graphic packages.
"There are no junk yards full of Gremlins, and there are no Gremlin catalogs," Webb says. "You have to tap into the clubs and networks."
Good hunting, Gremlin fans.