Alpine turned its A110 into a widened rally machine—with a ski rack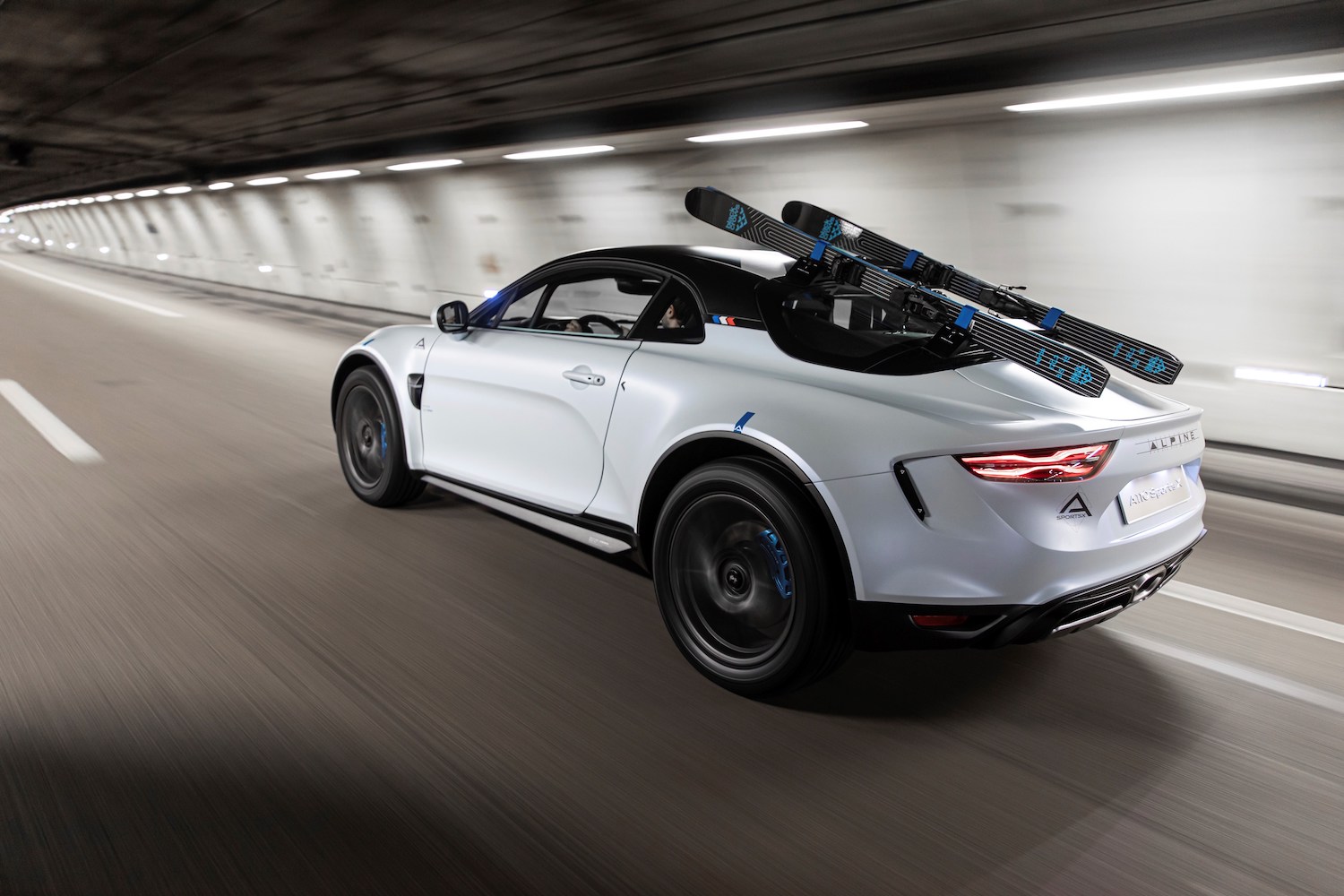 In 2015, Alpine chose the International Automobile Festival in Paris to present its wild Vision Gran Turismo. Five years later, with its new A110s taking one corner after the other more eagerly than most sports cars out there, Alpine is using the same exhibition to show off "historical, present and fantasized models," and representing that third category will be its brand-new A110 SportsX.
Based on the A110's lightest version, the Pure, the SportsX concept features a body widened by 3.15 inches and a suspension raised by 2.36. All that, plus a ski rack at the back. Finally, a modern A110 that won't be intimidated by rough roads or the snowy passes of the Alps.
Next to this design study, Alpine will display the new 288-horsepower, 2456-pound flagship A110S, along with a whole fleet of rarities, starting with 2015's V-8-powered virtual race car, the Vision Gran Turismo. Fans of Alpine's earlier history won't be disappointed either, as the company will also show off an original A110 1300 Berlinette from 1971. Restored by its owner in 2004, this fiberglass-bodied rally icon weighs just 1554 pounds, pairing a 103-horsepower four-cylinder with a five-speed gearbox.
Parked next to that should be its beefier sibling, 1972's Alpine A110 1800 Group 4. This racing model scored nearly 150 victories for the French between 1969–72 both in Europe and Africa. Alpine's display car also comes with an impressive history:
"Victorious during the Tour of Corsica in 1972, the Manzagol-Alessandri team came second in the Critérium des Cévennes of the same year. In 1974, the car took part in the Rally Jeanne d'Arc, the Rally du Maine, and the Tour Auto. In 1976, prepared with an 1800 engine, it went off the road violently during the Critérium de Touraine. It got restored by a small team of enthusiasts in 2018. This A110 Group 4 is now entirely faithful to its factory form, thanks to all the original parts involved. The finished project went through its shakedown during the Tour Auto 2018, the Modena Cento-Ore, and the historic Tour of Corsica."
Last but not least, Alpine prepared an A210 for the occasion, which is the Le Mans car it campaigned 1966–69. The A210 for Paris is a 1967 version raced by the Killy/Wollek crew, with a Renault Gordini Type 58 CI engine and a Porsche gearbox. During the 24 Hours of Le Mans on June 14, 1969, it confirmed a top speed of 168 mph on the Hunaudières Straight (the stretch of road commonly known as the Mulsanne Straight).
Sounds like Alpine's stand is the place to be at the International Automobile Festival.