4 top-shelf Ferraris we're watching at 2019 Monterey Car Week
It's hard for a car to stand out during Monterey Car Week. From the auctions to the concours to the races, the whole week is star-studded with some of the world's best, prettiest, and most expensive automobiles. Take a stroll through downtown Monterey on any given afternoon, and you'll see million-dollar classics parked on the street, and any given traffic jam might have as many Porsches as it will Toyotas.
Naturally, no matter where you go, Ferrari features heavily in Monterey every year, especially at the auctions. This year, there are F50s, F40s, LaFerraris, 275s, a 250 TdF, and even an FXX up for grabs, but these four cars are even more special, not to mention more valuable. These recently announced consignments from RM Sotheby's are some of the most desirable vintage Ferraris to come to market all year.
Presale estimate: $4M–$5M
Powered by a 2715-cc, 210-hp V-12 and one of just a dozen Sport Spiders bodied by Vignale, this car has extensive period hillclimb and race history in Britain, including a third overall finish at Goodwood with future Le Mans winner Roy Salvadori at the wheel. It also raced Argentina before being restored in the U.S. in the early 2000s. Gorgeous, fast, historically significant, and eligible for events like the Le Mans Classic and the Mille Miglia, it's the kind of car that makes you want to pull off a bank heist just to put in a bid.
1955 Ferrari 375 MM Coupe Speciale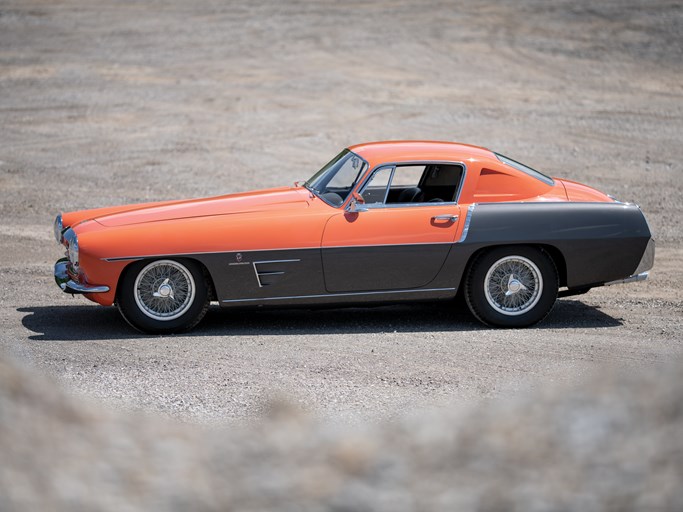 Presale estimate: $5M–$7M
You've heard of a pink Cadillac, but what about a pink Ferrari? OK, technically it's salmon, but still. The 375 MM was a competition car primarily, but a few of these 4.5-liter V-12 racers were commissioned for road use. One was actress Ingrid Bergman's Pininfarina-bodied 375. This car is another, ordered with funky one-off alloy Ghia bodywork by Robert Wilke of Milwaukee.
According to RM, it's the last Ferrari fitted with Ghia coachwork, and it appeared at both the Torino Motor Show and New York Auto Show in 1955 in this unusual salmon and gray color scheme. The interior is all original, and it has covered just 13,000 km.
It was last seen at an auction in Gstaad, Switzerland, way back in 2002, but it failed to meet reserve. Coachbuilt Ferraris, even the odd-looking ones, are very valuable. This one is neat even if it isn't gorgeous, and we love the chrome mustache on the nose that makes it look extra Italian.
Presale estimate: $8M–$10M
Like a lot of race cars back in the day, this Fantuzzi-bodied Ferrari led several lives over its career. Originally fitted with a 2.4-liter V-8, it first raced at Sebring in 1962, then raced at the Nürburgring with a different, slightly larger V-8 before being rebuilt to 196 SP specifications with a Dino V-6 and raced further in the United States. Its sister car, the V-8-powered 268 SP Chassis 0798, appeared here three years ago but hammered not sold at a $12.5M high bid. This one, meanwhile, sold at Quail Lodge 20 years ago for "just" $1.285M—a legitimate bargain.
1962 Ferrari 250 GT SWB California Spider
Presale estimate: $10.5M–$13M
The second-to-last California Spider and reportedly the only SWB (short wheelbase) example in unrestored condition, this boasts just four owners in the last five decades. SWB Cal Spiders are more desirable than the LWB cars, but this is also an open headlight Cal Spider, which is less desirable than the closed headlight version, a replica of which stole the show in Ferris Bueller's Day Off. That little difference in headlights can make a difference of $3M or more (car collecting is not a rational hobby), but this car is still an eight-figure Ferrari.