This 1980 Toyota dually flatbed conversion is a one-of-a-kind daily driver
Officially, Toyota never built any dually versions of its compact Hilux pickup for the North American market. Known as the Truck in the United States and the Hilux almost everywhere else in the world, the pickup was respected for its absolute indestructibility in the face of almost any peril—save, perhaps, rust. The Truck was the pickup that earned Toyota a generous welcome among task-focused buyers who couldn't justify the fuel and parking requirements of a full-size model.
Of course, 'unofficially' sometimes things slip through the cracks at major car companies, and Toyota wasn't immune to that happening. It turns out that if you absolutely had to have a version of the Truck with dual rear wheels, well then, no problem—as long as you were also willing to haul around a camper, too. Developed in partnership with several well-known RV builders (including Winnebago and Coachman), a small number of these tiny homes on wheels torturously made their way up mountain passes and coasted gratefully into state parks starting in the mid-1970s, continuing on into the '80s.
When Maxime Dupuis bought this particular 1980 Toyota Truck a year and a half ago, it was in considerably rougher shape than it is now. Having been used as a camper until immediately before Dupuis found it, the previous owner had started the process of converting the pickup from home-away-from-home to task-focused flatbed. A few major details were neglected.
"The back of the cab was just one big hole," explains Max. "Because on the campers, it was completely open for access to the living quarters. Basically, the truck had the flatbed assembly bolted on, but aside from some haphazard spray-painting, that was it in terms of the work that had been done."
When he's not working at Campagna, makers of the bewilderingly quick T-Rex, Dupuis builds furniture art out of car parts and body panels through his company, The Oldschoolers. The half-baked flatbed conversion didn't deter him. He had the skills to finish the project, and the desire to daily drive something Toyota had never actually intended to sell.
That's right—this '80 Toyota dually flatbed is Max's daily driver. Keen eyes will notice that when the truck is in "winter mode" he even swaps the dual setup out back for a set of narrow, studded winter tires so he can more effectively cut through snow and slush.
"I wanted it for two reasons,' he tells me. "The first was that it would be practical for the shop, but in reality, I would have bought it anyway, because even though it was so rough at the time I thought it was incredibly cool in terms of style and uniqueness."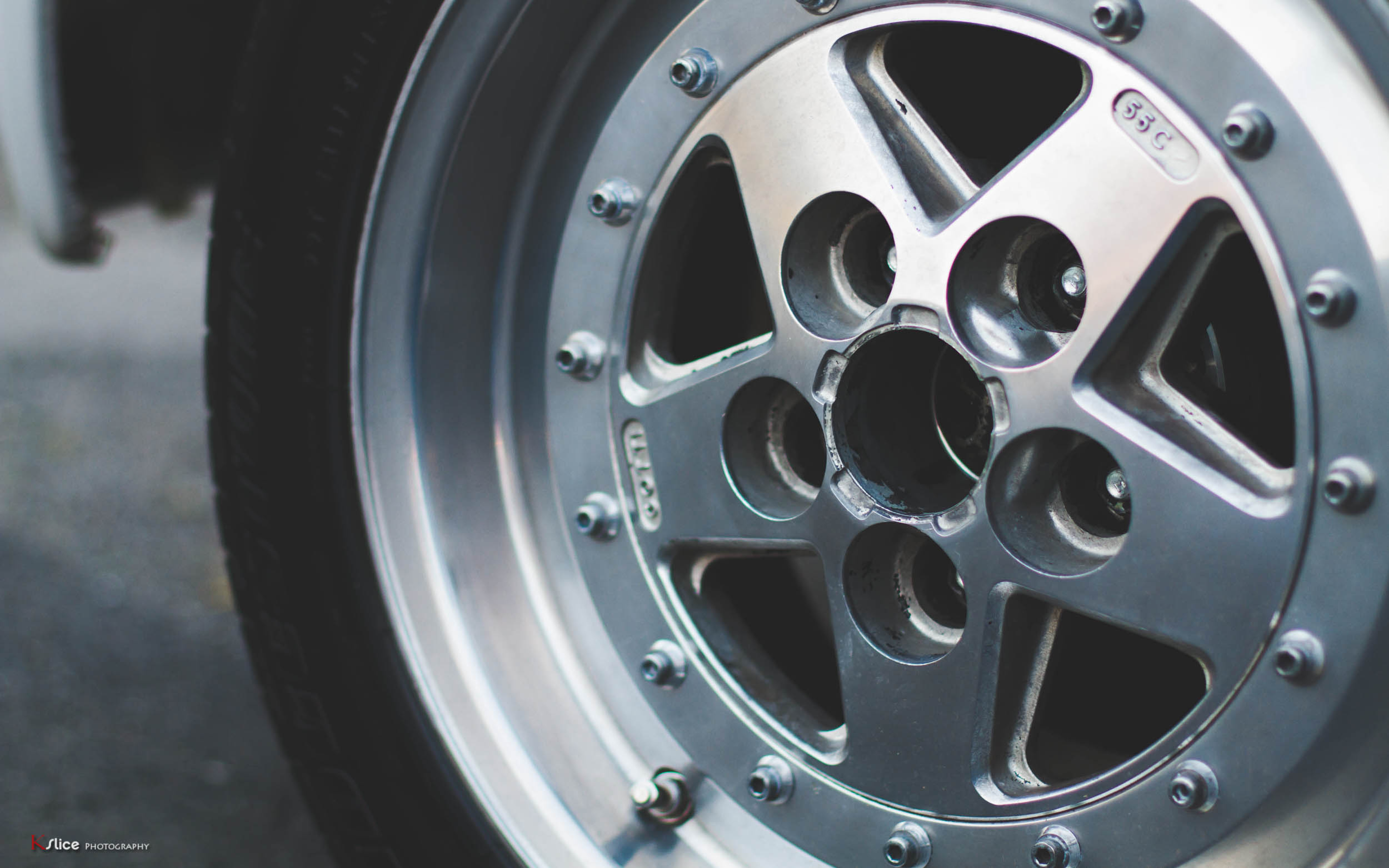 Dupuis went to work, and the end result is an eye-catcher. On the list of custom touches he added to the truck are flared 4×4 fenders (even though it's a 2WD model), a 4×4 grille, and JDM mirrors on the front fenders that make it easier to keep track of where the edges of the bed are hanging out. In the summer the truck wears 16-inch GOTTI wheels, but colder weather calls for the originals.
"There are barely any campers left out there, and those that did survive are kept around solely for the dually factor," Max says. "Most people who preserve them simply enlarge the bed, or install a low-buck wooden flatbed with slats, and it never looks as good as a true steel installation. I've yet to come across another one like mine, not even on the Internet."
Under the hood, the truck sports the same 2.2-liter, 20R four-cylinder engine that it was born with, matched with a four-speed manual transmission. Carbureted, the unit is good for just under 100 horsepower and 120 lb-ft of torque, and Max claims that he's hauled as much as 1000 pounds of cargo on the truck's 6×7-foot deck.
"At that weight the power is fine, but the brakes, with drums in the back, become a bit of an issue," he laughs.
Driving the truck in modern traffic is significantly more fun than you'd expect. The shifter is smooth, power delivery is lively, and the manual steering system only becomes an issue at lower speeds. Dupuis replaced all of the heavy-duty suspension components sitting out back, which include both leaf and coil springs, originally intended to keep control of a tall, swaying camper. The Toyota feels confident and even-keeled at all times. In fact, the truck is most remarkable for what I don't notice from behind the wheel: weight. The entire setup checks in at a paltry 2600 pounds, an astoundingly low measure for such a capable vehicle.
After going through a period of moral uncertainty where he came close to selling the truck (indeed, we originally found Max through the local for-sale listing he had placed) he assures us that the Toyota is now here to stay. He simply gets too much pleasure out of the attention the truck gets almost everywhere he goes, even at local cruise-ins where it's parked beside high-dollar metal. That's on top of the joy of driving such a simple, lightweight, and useful truck.
"I ended up selling my Audi 100 so I could keep this in the fleet," he admits.
Sometimes, there are no wrong choices.
Hagerty protects all kinds of collector cars, trucks, and modified vehicles. Let's talk about your special ride.
Get an insurance quote