Auction houses prove that '80s and '90s cars are more than a fad
The '80s and '90s are catching on in the collector car market, and there's no better example of this continuing trend than the glut of cars for sale at the auctions adjacent to the 2019 Amelia Island Concours d'Elegance. Auction houses don't put cars up for Instagram likes, they do it because they see significant interest and value in a particular model.
For lack of a better term, we borrow the German term "Youngtimers" to define these cars, although that doesn't necessarily apply to the people buying the cars—the guy or gal who grew up lusting after the Acura NSX is now hovering on either side of 40 years old (yours truly included). Another way to put it would be "new school" collectibles. For the sake of this article, we're limiting the scope to '80s and '90s cars that typically traded below MSRP when new. No Ferraris or Dodge Vipers, just the cars you're kicking yourself for not buying eight years ago when they cost half as much as they do now.
The numbers back this up as well–counting cars from German and Japanese manufacturers plus Alfa Romeo and Jaguar, there are 50 on offer, versus 38 last year. There are seven Japanese cars from these two decades for sale, versus zero last year. Of the choice machinery on offer at the upcoming Amelia auctions, these are our favorites.
1989 Mercedes-Benz 560 SEC AMG 6.0 Widebody
Lot 105 (RM Sotheby's)
Estimate: $120,000–$140,000
The look is just plain mean, and the special four-valve 6.0-liter upgrade of the M117 V-8 makes it all the more drool-worthy. A similar car sold at RM's Paris auction for €297,100 ($337,158), 49 percent over the high estimate. The one here has scant details mentioned in the catalog description, which usually depresses prices, but don't be surprised if this pops over the estimate as well. If a Mercedes-Benz coupe of a less conspicuous nature is more your style, Gooding & Company has a 1991 560 SEC with only 8000 stated miles in a lovely purple hue. The high estimate of $100,000 on that car is more than double its #1 (Concours) value.
Lot 82 (Gooding & Company)
Estimate: $40,000–$50,000 (no reserve)
Yes, there are four zeros in those estimates, and it brings up another phenomenon we've seen with Youngtimer cars. People will pay big bucks for a low-mileage survivor, even for a car as unexpected as a 420 SEL. The W126 generation of M-B's large sedan is considered a high point for the brand, before electronics and cost-consciousness were bigger factors in the company's designs. The estimate on this car illustrates the fever for this era of German metal.
Lot 38 (Gooding & Company)
Estimate: $40,000–$60,000
Try to move past the 1988 928 S4 or 1995 928 GTS at RM Sotheby's and focus your gaze upon the forgotten front-engine Porsche that is the 968. Compared to its predecessor, the 944, 968 sales were minimal, and that rarity has turned into lasting value. While this version is connected to legendary Porsche PR chief Bob Carlson and has a mere 15,000 miles, the estimate falls within its value range.
Lot 8 (Gooding & Company)
Estimate: $90,000–$120,000
One of three examples going up for sale over the Amelia weekend (including a convertible), this car was once owned by Graham Rahal, who no doubt incurred some the M3's notorious running costs. (Don't take my word for it, look to the claimed $12,000 in recent mechanical work on the 1990 example on offer from RM Sotheby's for proof.) But the E30-generation M3 occupies one of those places on the automotive evolutionary tree you can point to and see how it changed everything that came after. As Sam Smith wrote for Car and Driver, "The Baron von Asskicken styling and the peaky 7200-rpm four are just icing on the cake."
Lot 101 (RM Sotheby's)
Estimate: $40,000–$45,000
RM Sotheby's is continuing its "Youngtimer Dream Collection" with another 10 consignments, including four U.S.-market Japanese sports cars from the late '80s and early '90s. Mazda's entry in this peak era was the third-generation RX-7, a car that's still great to drive today. The RX-7 doesn't have the same fervent online following as the Acura NSX or Toyota Supra, so this sale will say more about the overall prospects for Japanese cars in the collector market.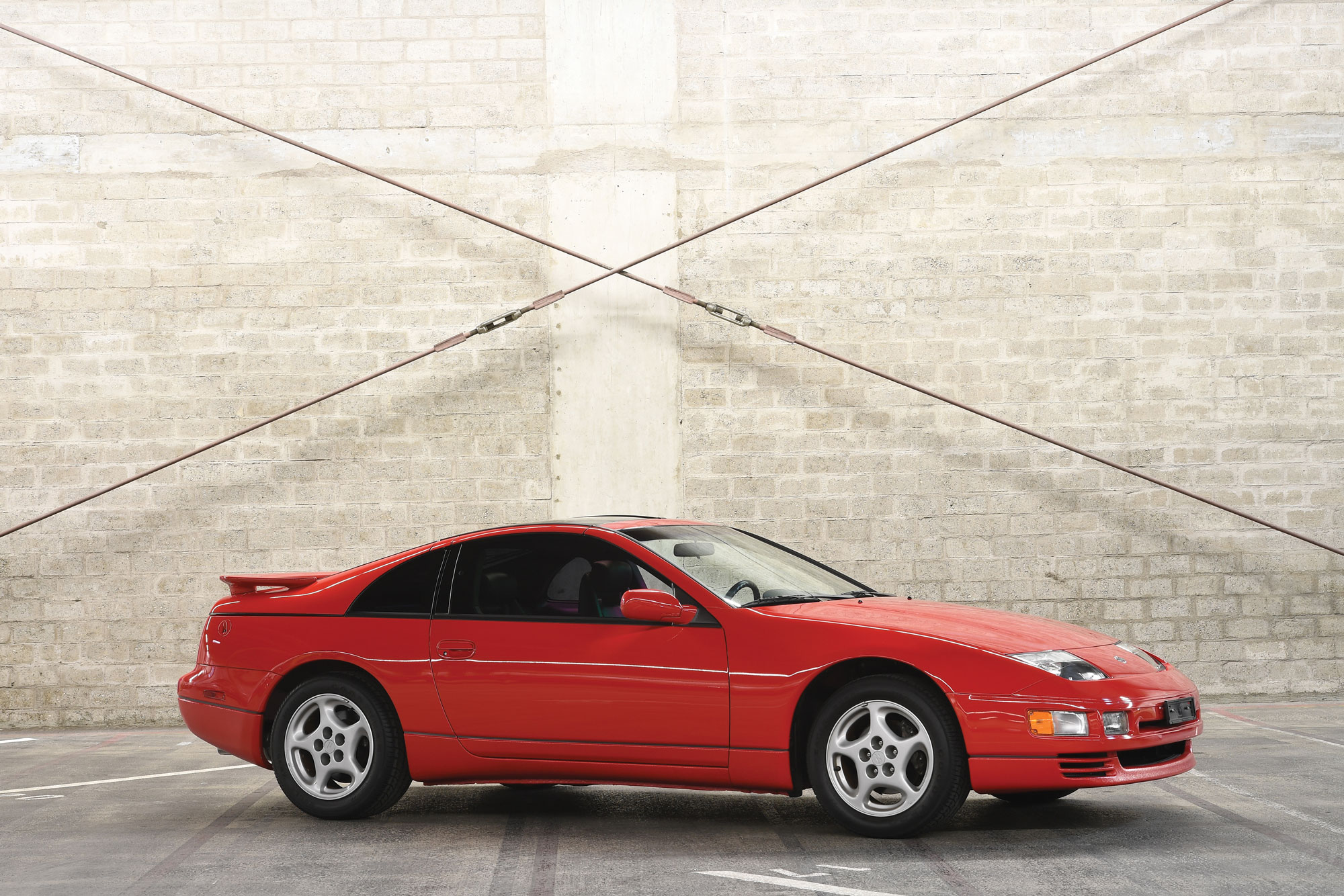 Lot 102 (RM Sotheby's)
Estimate: $30,000–$40,000
When a final edition 300ZX turbo sold in late 2017 for a record $90,100, we said "your 150,000-mile non-turbo 300ZX is not suddenly worth $20 grand." A low-mileage Turbo like this one is worth a lot, though, possibly more than the high estimate here. What's hard to figure is why this car's two owners hated driving it so much, since they racked up only 2718 miles. (That's a joke, if you didn't pick up on the sarcasm.)
Lot 106 (RM Sotheby's)
Estimate: $100,000–$120,000
Seriously, why are people not driving the best cars of an era? Yes, it makes for a great time capsule, but averaging fewer than 500 miles seems like a waste of a perfectly good 2JZ (that's the code name for the Supra's engine, in case you didn't know). Opinions aside, this Toyota once shamed the Porsche 911 at two-thirds the price and now costs a third more than a concours example of that same Carrera.
Lot 109 (RM Sotheby's)
Estimate: $100,000–$120,000
The 2005 edition marked the end of a 15-year production run for the original NSX, and the final version was showing age at the time, but now the fixed headlights are a cool variation. You've heard the story about how the Honda proved it could make an exotic car that you could drive every day, shaming Ferrari into upping its own game. Did you know, however, that the NSX had a cassette tape deck in the radio right up until the end? Rad.