Is the Triumph TR7 going to be dirt cheap forever?
According to Triumph, the 1975 TR7 was supposed to be "the shape of things to come," but it wound up being the shape of a tanking company. But how?
A radical departure from the old-fashioned but well-liked TR6 it replaced, the TR7 looks like a wedge of cheese, its pop-up headlight doors look a lot like toilet seat covers, and the character line on the body sides is just distracting. Legend has it that Giorgetto Giugiaro, the designer who helped popularize wedge styling in the first place, exclaimed "My God! They've done the same thing to the other side" when he first saw Triumph's new sports car.
On top of the looks, the TR7 wasn't built very well. And much of the time, it wasn't even built at all. In those dark days of late-70s British Leyland, the workforce tended to be a bit strike-happy, and labor stoppage was regular. Triumph shut its doors not too long after the last TR7 rolled off the line in October 1981, and ever since the TR7 has been the butt of jokes and largely dismissed by traditional British sports car fans. The car's main appeal these days is that it offers a quirky, fun-to-drive little sports car package—for dirt cheap.
But even though the TR7 is something of a rolling punchline, it surprised us with a Hagerty Vehicle Rating of 77, which is up a whopping 57 points over the past year and ahead of anything else with a Triumph or MG badge.
[If you aren't familiar with our Hagerty Vehicle Rating, it's the result of crunching the numbers we collect from the industry, which includes insurance quote activity and auction sales. Comparing the data to other models allows us to rank vehicles performance in the market overall. A vehicle that's keeping up with the market would have an HVR of 50, and those that are outperforming the market are scored as high as 100.]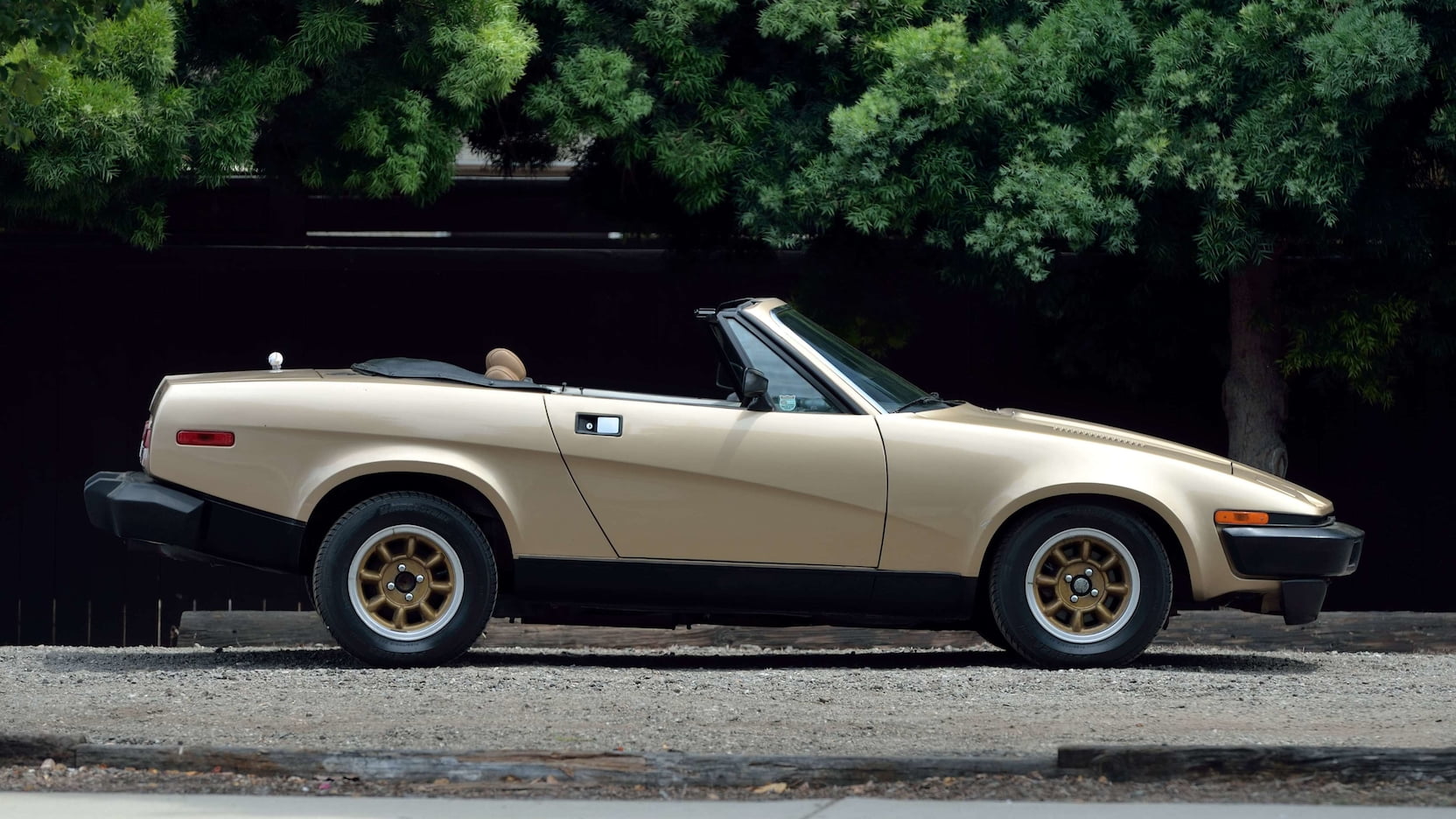 Don't expect the TR7 to be the next big thing, however. This is mostly driven by buyer interest (measured by insurance quote activity) rather than any big prices that we're seeing. The number of quotes is up 25 percent over the past year, and that's sizable. The number being added to Hagerty policies is also ahead of the rest of the market. Other than those two metrics, however, it's not all coming up roses for the TR7.
Condition #2 (Excellent) prices saw a 10-percent bump in May 2017 and a 6-percent increase in September but have been flat ever since, including with our latest update in January. And even though buyer interest is up, it's mainly up among older enthusiasts. Two-thirds of TR7 quotes are coming from Baby Boomers and older, even though those groups make up only half of the quotes overall. Gen-X and Millennial buyers, meanwhile, are somewhat indifferent to British sports cars in their buying habits, and that translates to the TR7 as well.
As for auctions, we just don't see a ton of TR7s cross the block. In fact, only two of them made it to auction last year, and both sold for below their average value. An absolutely mint 1000-mile convertible sold for a whopping $24,200 in Scottsdale two years ago, but that sale was something of a fluke and you'd be hard-pressed to find a TR7 selling for more than $15K. Most of them out there are asking less than 10.
There are a few reasons why TR7s are unlikely to catch on despite some encouraging numbers. One is that they aren't exactly rare. Despite its flaws, the TR7 handles well, is a lot more refined than its predecessors and was competitively priced in its day, so Triumph sold over 100,000 of them. Another is build quality and reliability (or lack thereof). Even though things got better as production moved from Liverpool to Coventry and finally to Solihull, TR7 quality was never excellent.
And since TR7s have been so cheap for decades, the years (and their owners) haven't been kind to them. That's why most of the ones on eBay are falling apart. In the grand scheme of things, buyers increasingly show a preference for reliable, "ready-to-go" collector cars, which doesn't bode well for the many mechanic-special Triumphs out there.
Lastly, TR7 prices have a natural ceiling, commonly known as the TR8. Triumph jazzed up its wedge sports car with a 3.5-liter Rover V-8 for 1978, and the TR8 is just a much more exciting car. And with a little patience (fewer than 3000 were built), the huge step up in performance and rarity from the TR7 to the TR8 is a tempting value. Prices range from a little over 4 grand for a running project to less than 25 grand for a Condition #1 (Concours) example.
The TR7, meanwhile, ranges from $2000 to $14,200. For whatever reason, TR8s have also remained very affordable and don't show signs of picking up. Because the 7 will never be worth more than the 8, TR7 prices don't have much room to grow. And TR8 aside, there are lots of vintage Japanese sports cars (not to mention earlier classic British roadsters) that are waiting to be snapped up for entry-level prices. So even though the TR7 is getting more love from buyers than it has in the past, don't expect them to appreciate any time soon.