11 strange cars at Monterey that you just have to see
Every August, more mouth-watering collector cars sell in Monterey than the average collector would know what to do with. This year is no different, with the oldest-ever Porsche estimated to sell for $20M, a McLaren F1 LM also estimated at $20M, and too many classic seven-figure Ferraris to list.
If your tastes are a little more eccentric, however, Monterey always brings out some great oddballs. Here are 11 of the most wonderfully strange things on four wheels (or, occasionally, three) that will be crossing the block next month.
RM Sotheby's
Presale estimate: $80,000–$100,000
At just 73 inches long and weighing 330 pounds, this isn't just one of the oddest cars on offer this year, it's also the smallest—not to mention one of the cutest. With a top speed of 28 mph, it's one of the slowest, too, but there aren't many other cars in Monterey that can boast 100 mpg. A period advertisement for the Trident called it "almost cheaper than walking."
Built by the Peel Engineering Company on the Isle of Man in the UK, the Trident was the "sporty" follow-up to the company's P50, which is the world's smallest production car. The Trident is a lot more distinctive, with a shape straight out of the Jetsons, and according to RM Sotheby's, about 55 were built compared to 47 examples of the P50. The Trident on offer in Monterey is reportedly one of the first 10 Tridents built and "arguably the best documented Peel Trident in existence." It's delightful regardless, but with that greenhouse of a roof, I hate to think what it would be like to drive on a hot day.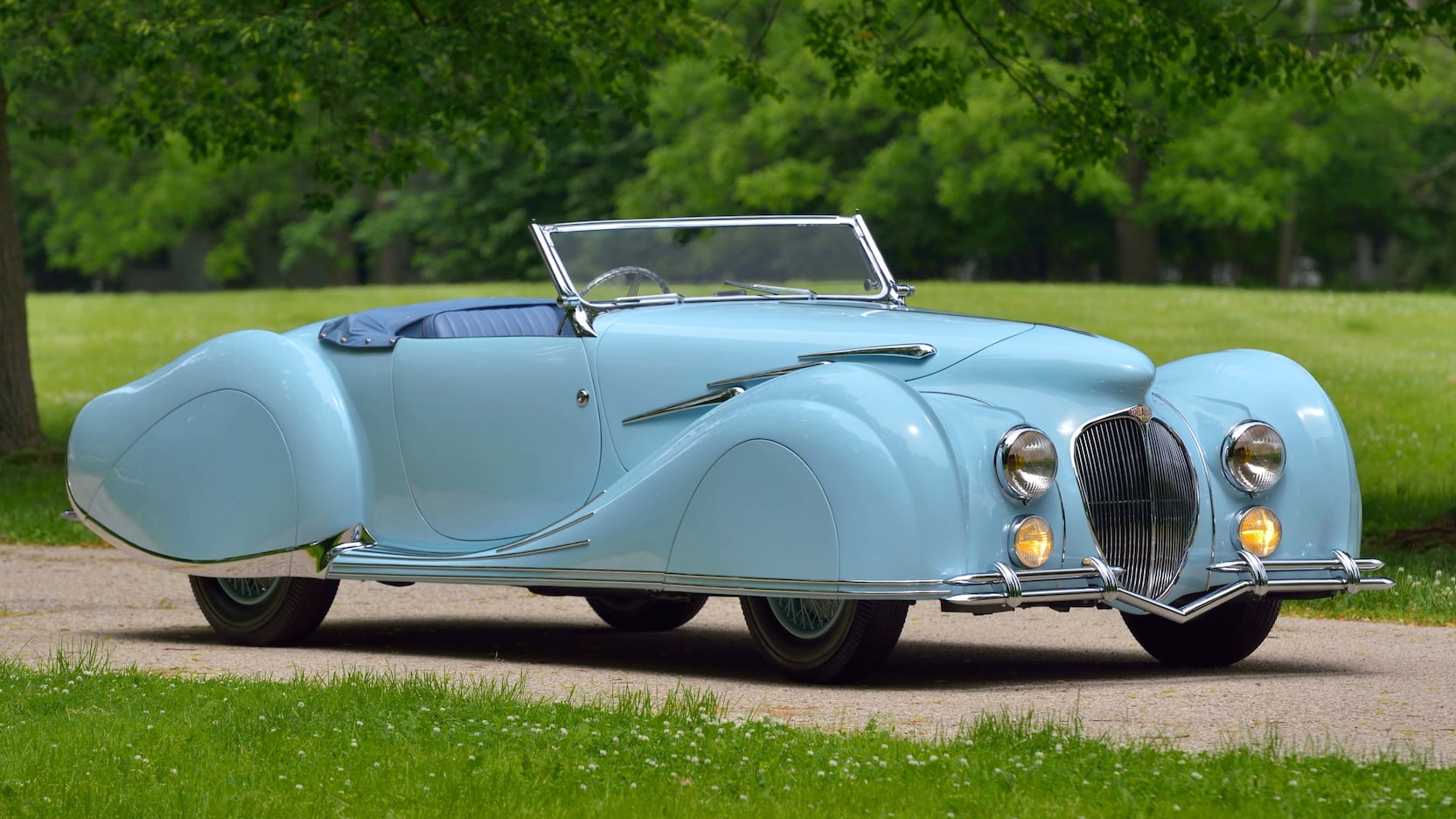 Mecum
Presale estimate: N/A
French coachbuilder Figoni et Falaschi is mostly known for its flamboyant designs, and its seven Narval cabriolets certainly qualify. Built on the sporty Delahaye 135MS platform, this example is modest on the chrome for a Figoni et Falaschi design, but ample on the curves. And although naming your car after an Arctic whale (narval is French for narwhal) doesn't exactly bring words like "elegant" or "graceful" to mind, the Narval is an attractive and striking car. Well, it is from the side and the rear. From the front, that bulbous nose lets you know right away where that whale moniker came from. The French word for "blobfish," whatever that is, might have been more appropriate, but beauty is in the eye of the beholder, so a lot of people don't agree. The combo of Figoni design with a Delahaye 135 chassis is always collectible, and this car has the added benefit of being the 1947 Paris Auto Salon car and having been owned by French singer-songwriter Charles Trenet.
Mecum
Presale estimate: $200,000–$300,000
From the monstrous nose cone and triple-finned Lincoln taillights to the wavy flesh-colored dashboard and huge bumpers that wrap around to hug the wheels, the Manta Ray has weird written all over it. Sure, the '50s were a time of excess in car design and Jet Age styling was the norm, but the builders of this one-off took it a little far.
Inspired by Harley Earl's XP-8 LeSabre concept, which was one of the first examples of jet-inspired design elements, two men in California put more than 4000 hours into building this car with fiberglass body panels over a shortened Studebaker chassis. Despite the nose cone hinting at something huge and aeronautical under the hood, it's not that exciting. There was originally just a 232-cubic-inch Studebaker V-8, but now it carries a later dual-quad Cadillac engine.
Bonhams
Presale estimate: $45,000–$50,000
Guaranteed to get you all the attention at Radwood, the AZ1 is all angles and old-school gadgets. It's just plain funky. Autech is a subsidiary of Nissan, and underneath the AZ1 is the platform of the Nissan Leopard, which came to us as the Infiniti M30. The engine is a turbocharged 3.0-liter V-6 thought to be good for over 300 horsepower but officially rated at 280. Nissan enlisted the kings of weird designs at Zagato in Italy to do the styling, and boy, did they deliver. The NACA ducts in the wheels, the massive rear quarter windows, the mafioso mustache of a grille, and of course, those huge fender pods that house the mirrors, it's fantastic or hideous depending on who you ask. The only downside is the automatic transmission between the seats.
Gooding & Company
Presale estimate: $400,000–$500,000
It wouldn't be a list of weird cars without a Zagato in the mix, but we decided to throw in two of them. Aston Martin has had a long, successful relationship with Zagato that stretches back to the 1960s and continues today. Some of the cars to come out of that partnership, like the DB4 GT Zagato, are stop-you-in-your-tracks gorgeous. The ones from the 1980s, not so much.
Simply called the V8 Zagato, the styling via Etch-a-Sketch hasn't aged particularly well, but you can't deny there isn't much else like it on the road. This one is reportedly one of three Gladiator Red examples displayed at the Geneva Motor Show in 1986 for the car's debut. One of its owners was actor Rowan Atkinson, who commissioned Aston Martin Works Service to convert it into a competition car and raced it for a while, although it's since been converted back to road specs. If red isn't your color, Gooding also has a blue one and RM Sotheby's has a black one. And if you like the wind in your hair, RM Sotheby's also has a convertible Volante version. Aston Martin sold just 52 coupes and 37 convertibles, so it's unlikely you'll ever see this many of these delightfully ugly cars for sale in one place again.
RM Sotheby's
Presale estimate: $400,000–$600,000
A cat named after a fish, the Jaguar Pirana is a one-off shown at the Earls Court Motor Show in 1967, and its backstory is fascinating. It was originally dreamed up by John Antsey, editor at The Daily Telegraph in the UK. To promote the paper, he commissioned a special car that combined high performance, modern technology, and good looks.
Underneath, the Pirana is a Jaguar E-Type 2+2, and it rides on the Dunlop racing wheels made famous by the D-Type in the 1950s. Smiths provided a state-of-the-art air conditioning system, as well as a combination radio/cassette player/dictation machine. Another cool touch, the slatted lower rear window also opens for extra ventilation.
The body was the work of Nuccio Bertone and Marcello Gandini, who had a finished body in just five months. If the Pirana reminds you of a Lamborghini Espada, it's no coincidence. Gandini penned the Lambo four-seater GT just a year later.
The Pirana was a sensation at the London show and was displayed again at auto shows in Turin, Montreal, and New York. But it became one of those cars that makes a big splash and then just sort of disappears. It supposedly sold at auction for around $17,000 in 1968 (a ton of money back then) but stayed out of the public eye for decades. Over the years, it had green paint and added rear seats and an automatic gearbox in place of the original Jaguar four-speed. Since then, it has been put back to its original specs as seen at Earls Court in 1967.
Gooding & Company
Presale estimate: $2,500,000–$3,000,000
The Ferrari 458 isn't the prettiest thing to ever wear a Prancing Horse badge, but it is an attractive car. The Sergio, though, is up for debate. You could call it futuristic. You could call it striking. You could just call it interesting, but few would call it prettier than the 458 Aperta on which it's based. Regardless, it's extremely rare. The Sergio started out as a concept car displayed at the Geneva Motor Show in 2013, the year after Sergio Pininfarina passed away. Then, in celebration of Pininfarina's upcoming 85th birthday, Ferrari opened the car up for production but limited it to just six Sergios. All of them went to preferred customers at a price of nearly $3M. This one sold new to an unnamed European racing driver, has clocked just 78 miles since, and was displayed in the lobby of the Petersen Automotive Museum earlier this year.
Gooding & Company
Presale estimate: $900,000–$1,200,000
Coachbuilder Labourdette was famous for the skiff body style, using a boat-like shape and a combination of metal and wood, often mahogany body panels. Skiff bodies graced small automobiles as well as larger luxury cars like Rolls-Royces, Mercedes, and large Renaults like this one. The 40 CV was Renault's premier model in its day. With a 9.1-liter straight-six, it was fast enough to win the Monte Carlo Rally, and with the right coachwork was luxurious enough to be the official transport for the French President. According to Gooding & Company, this 40 CV wears the last Labourdette skiff body. That's significant enough, but almost as impressive is the claim that it's largely original and boasts just four owners from new. That's not that unusual for a used Porsche, but for a 94-year-old half-wooden car, that's incredible. The contrast of polished aluminum body with black fenders and dark mahogany panels looks amazing, and funky touches like the central spotlight and dual cowl make it stand out even more.
Mecum
Presale estimate: N/A
Unusual but by no means ugly, the Firearrow II is one of four concept cars designed by Virgil Exner and built by Ghia during Exner's time at Chrysler. Firearrow I was a full-scale model, but the next three were fully functioning cars. Firearrow II is essentially a running and driving version of Firearrow I, while Firearrow III is a coupe and Firearrow IV is a nearly production-ready convertible with folding top and windows. The concept showed promise, and Chrysler conceivably could have built a two-seater to take on the Corvette and the Thunderbird, but in the end there were only the original four Firearrows. Built on a Dodge Royal chassis and powered by a Red Ram Hemi V-8, Firearrow II sold in a pair along with Firearrow IV for $1.1M at Barrett-Jackson Scottsdale in 2007. The coupe Firearrow III, meanwhile, sold for $852,000 at RM Monterey eight years ago.
Mecum
Presale estimate: N/A
Yes, it looks like a background car from Mad Max. No, it isn't a background car from Mad Max. That patina and rust aren't Hollywood effects, but good, old-fashioned wear, tear, and exposure to the elements. The car's history since the 1930s isn't clear, but it obviously hasn't led a pampered life.
Based on a Chevrolet, it is thought to be the first complete car built from an Alex Tremulis design. If the name Alex Tremulis sounds familiar, it's because he was chief stylist at Auburn-Cord-Duesenberg and designed the Tucker 48, as well as the Subaru BRAT. He was just 19 when he designed this custom Chevrolet dominated by its enormous, downright scary-looking grille and equally huge tail fin for vaudeville comedian Ralph Cook. It was also displayed at the 1933–34 Chicago World's Fair.
RM Sotheby's
Presale estimate: $150,000–$200,000
How do you make an Aston Martin Lagonda even weirder? One way is to make it a wagon. That's just what this car's second owner did, not in 1987 but in 2006, commissioning Swedish industrial designer Ted Mannerfeldt to do the work. Originally ordered with a full cocktail set, television, picnic tables, and lamb's wool carpets, it's as lavish as it is strange, and we have to admit the conversion looks really well done. It's also a Series III fuel-injected Lagonda, of which only 75–85 were built.