For a taste of SEMA in your garage, buy this RMD Garage-built Ford Bronco
First-generation Ford Broncos have never been hotter. The boxy SUVs are showing up at almost every major auction or event, and their popularity and desirability continues to skyrocket. If you want to join the crowd and make a rather loud statement in the process, this RMD Garage built 1969 Bronco is for sale and awaiting your offer.
RMD Garage is best known for its Motor Trend network show of the same name, where the southern California shop creates custom cars of every flavor. This particular Bronco, dubbed "Urban Madness," was built to promote the shop at SEMA in 2017 and sold at the Barrett-Jackson Scottsdale auction in 2018 for $143,000. Now, Chicago Motor Cars is offering it up for $149,800.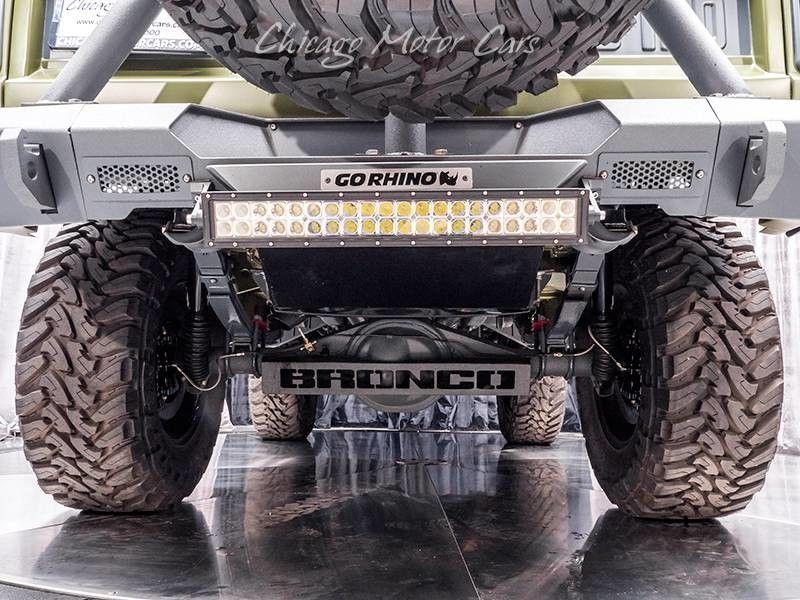 This custom build involved a complete overhaul of the donor vehicle, but there is still no mistaking the Bronco's classic silhouette. Massive lights, sprinkled all over the truck, ostensibly ensure you can see the trail ahead. Practically speaking, it'll more likely make sure everyone on the road can see you. Chicago Motor Cars' ad indicates there are just 11 miles on the vehicle since the build was finished, meaning this lifted and flared SUV hasn't seen anything rougher than a parking lot curb yet. It looks prepared for an excursion. A six-inch lift kit, Monster wheels wrapped with 35-inch tires and a Warn winch will make sure you don't get stuck on the trail.
Under the hood sits a 302-cubic-inch engine topped with a Borla throttle-body injection system, backed by a four-speed manual transmission. Big 14-inch Wilwood brakes seem like plenty to bring the Urban Madness Bronco to a stop. It looks like RMD bolted on most of the Go Rhino catalog, including heavy bumpers, rocker panel guards, and a custom hood.
When compared to the other new Broncos on the market these days, $150,000 for a one-of-a-kind, totally tricked-out Bronco seems oddly reasonable. Giddy up.