8 record-breaking supercars seized and sold for charity
It's not a great day when the Swiss government decides to auction off an illicitly-acquired car collection—at least, not for the Vice President of Equatorial Guinea. His constituents, the beneficiaries of the record-setting supercar auction? That's a different story.
Equatorial Guinea's vice president was convicted of embezzlement by a French court in 2013 and has a habit of playing fast and loose with court dates while attempting to settle any number of financial and legal scores. The collection represented at the Geneva Bonhams sale was being stored in Switzerland.
Obiang Mangue's cars went under the hammer to benefit charities working for the people of Equatorial Guinea, and the multiple high-selling records that were set marked the arrival of some poetic justice that, for the people of Equatorial Guinea, can't come too soon.
Sold for $8,312,060
Let's start with the positive records. A 2014 Veneno Roadster, #7 of only nine made and with only 202 miles on the clock, sold for a shocking $8,312,060—setting a new mark for a Lamborghini sold at public auction, shattering the previous high of $2,543,593 for a 1972 Miura SV two years ago.
Sold for $4,617,811
Another record was set for Koenigsegg, as the 2015 One:1 sold for more than $4.6M. If you've ever wondered where the six One:1s built ended up, you can mark down now that the blue/black carbon with the beige leather interior was registered in Equatorial Guinea and it covered only 371 miles.
Sold for $1,558,511 (Aston) and $1,316,076 (Bugatti)
The first live auction sale of a 2011 Aston Martin One-77 ended at $1.5M, while a 2010 Bugatti Veyron EB 16.4 Coupe went for $1.3M. The Bugatti's price is about average for an originally U.S.-intended car that "appears in good condition," according to Bonhams. Apparently, it has a clean engine that "starts instantly," which is very reassuring indeed when it comes to an almost decade-old W-16 with "no documentation."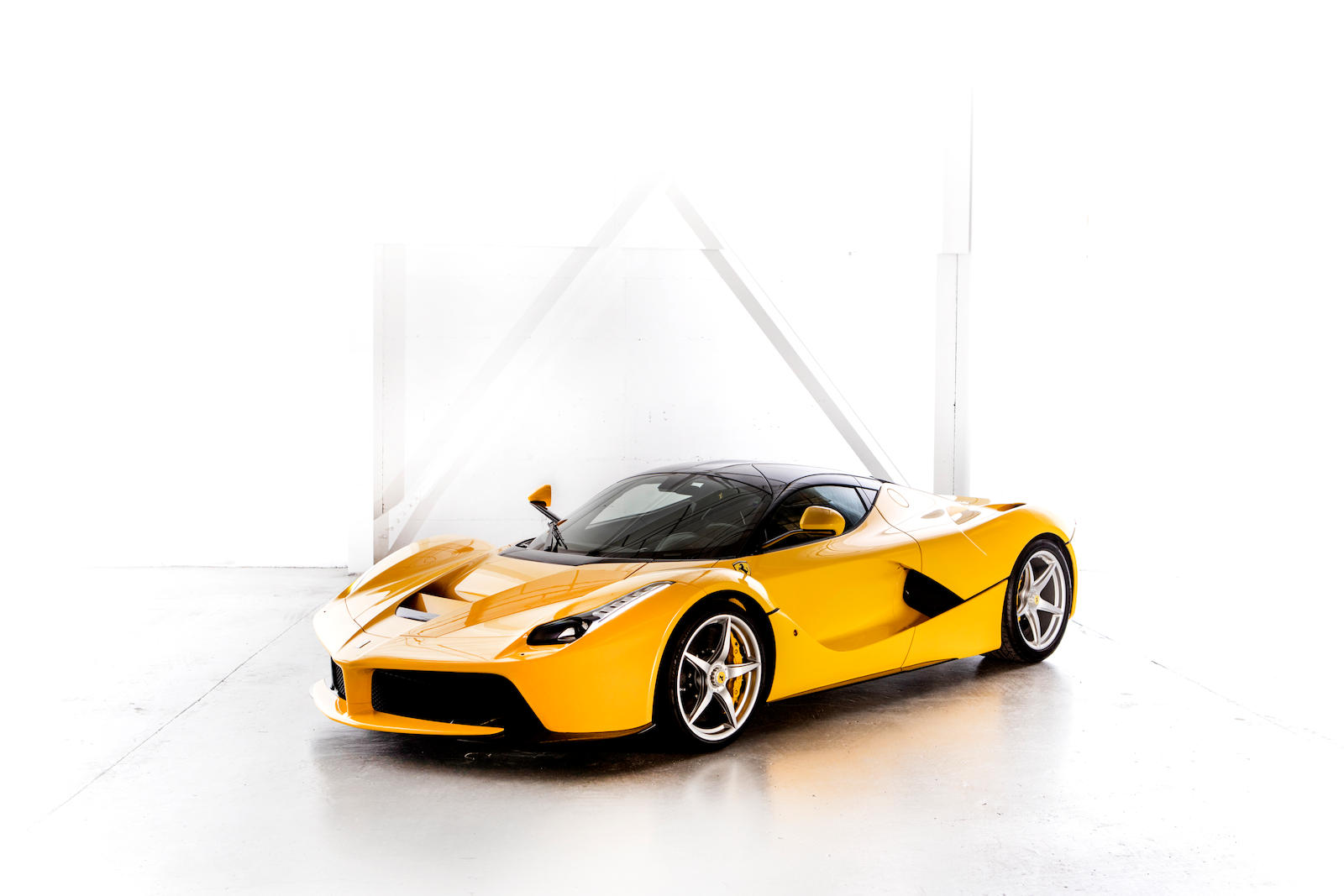 Sold for $2,193,460
What used to be Mangue's 2015 LaFerrari was repainted yellow for some reason in 2016, which may explain its record low sale price of $2.1M. However, vice president's equally yellow 2003 Ferrari Enzo went for $3,117,022, which is the highest price paid for one since 2016.
Sold for $1,269,898
This sale wasn't kind to the McLaren P1 either, as a 2014 example with 605 miles hammered for $1,269,898. As of last year, the lowest price paid for a P1 at a live auction was still $1,435,000.
Sold for $1,962,569
There was just no stopping Lamborghini at this Geneva sale. The Veneno Roadster dominated the headlines, but Mangue's 2010 Lamborghini Reventón Roadster also set a record for Lamborghini's first limited-edition model. And then came his 2011 Lamborghini Murciélago LP-670-4 SV at $346,335, the highest price paid for a Murciélago SV.
Sold for $90,047
Since Mangue's Carrera GT was seized and sold by the French government back in 2013 (along with an Enzo and two Veyrons), Bonhams had only three Porsches to offer:
A 2015 918 Spyder with roughly delivery mileage went for $1,558,511, which is near the current average price for the hybrid. Mangue's 1993 Porsche 911 Turbo S Leichtbau broke the negative record at $1,154,452, but a 1991 964 Carrera 2—a one-off factory paint sample car—soared to $90,047. It is still registered in Austria.
We hope all this loot finally goes where it belongs.