How far did $25K go at Arizona Auction Week 2020?
The dust has finally settled on the Arizona Auction Week 2020, which means all of us at Hagerty have been scouring the sales results. It's easy to get distracted by the high-dollar sales of rare and/or exotic machines that tend to make headlines, but make no mistake, it is very possible to arrive in Scottsdale with a relatively modest budget and walk away with a sweet new ride (or maybe even two).
I polled several Hagerty staffers for their takes on how they would have spent 25-large at Arizona Car Week 2020, and while I don't endorse (or even morally condone) several of their selections, it is my sworn duty to share them with you here.
1994 Mazda Miata "Custom Convertible"
Sold at Barrett-Jackson for $7370
As the proud member of Hagerty's high-strung four-cylinder club (feel free to join, we serve espresso rather than coffee—more punch for your munch, amirite), this Miata exactly what I want in a car purchase. I'm searching for Jinba ittai (the horse and rider, Mazda's guiding design philosophy for the Miata from day one) in its purest form. This one caught my eye for the combination of the wood steering wheel and the tan interior. It's a full respray in British Racing Green away from being perfect.
With a sale price of only $7370, I've got money to blow to pull the motor and build a 1.8-liter screamer that revs to nine grand. I'd also be swapping the wheels out for Watanabes. Leftover funds are going to road trips and track days. Duh.
–Nate Petroelje, associate editor
1968 Chevrolet Corvette
Sold at Barrett-Jackson for $16,500
If there's a vintage Corvette I first fell in love with, it's the C3. At the risk of public attack, I'd take a C3 over a second-gen any day—just look at those coke-bottle curves and trim Kamm tail. And, giving the small-block all due veneration, is it possible to go wrong with a 454-swap and a four-speed manual? Didn't think so. Top that off with a Holley carb and high-performance intake manifold, drench the whole thing in red… and who needs air conditioning? I'll use the remaining $8500 for fuel and tires. Happily.
–Grace Houghton, associate editor
1993 Chevrolet Caprice Classic Wagon and 1968 Chevrolet Corvette
Corvette sold at Barrett-Jackson for $16,500
Caprice sold at Barrett-Jackson for $3250
Good call, Grace. (Yes, we picked the same car. No, we didn't plan it.) A big-block, four-speed 1968 Corvette with its original engine in #3 (Good) condition is worth about $30,000, but this bright red T-top was originally equipped with a 327 small-block, which puts its value at around $20,000. Because this car's original 327 is long gone and replaced with a 454, it sold at a discount price. Who cares if it's not numbers matching? I sure don't. It has the best of the Stingray's looks, including an L-88-style hood, big-block performance, and there's no guilt in actually racking up some miles.
This sale Caprice was nothing short of a steal. The last generation of GM's long-lived B-body brought good packaging and tons of interior room with styling that left the wagons looking perhaps a bit overinflated. Still, their long-lasting reliability and interstate-devouring handling made them perfect road trippers and one heck of a photographer's camera car as well. This example was in 3+ condition (Good) and the only thing it lacked was the optional 5.7-liter V-8, settling for the 170-horsepower 5.0-liter instead.
–Brandan Gillogly, senior editor
1973 Lotus Europa Twin Cam and 1969 Triumph Spitfire Mk III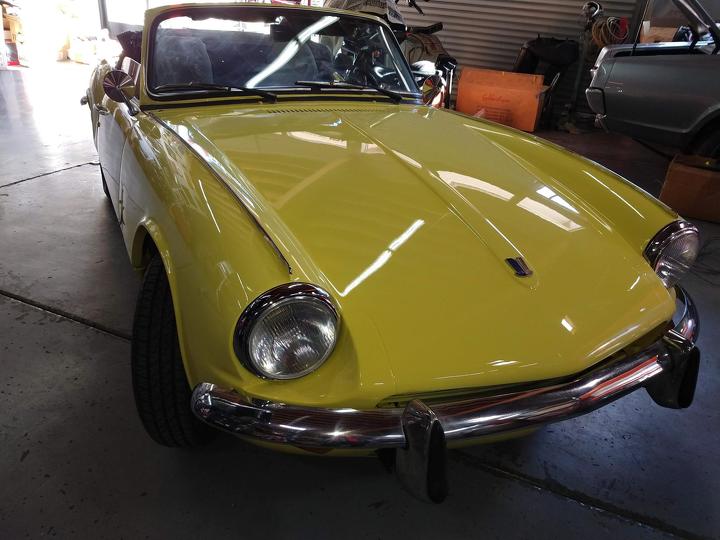 Europa sold at Barrett-Jackson for $19,800
Spitfire sold at Russo and Steele for $3850
The Europa has always been one of my favorite cars, even though I barely fit inside one. It's a delightfully weird design, it makes great noises, and it handles extremely well. Plus the one at Barrett-Jackson looked reassuringly clean underneath. The Lotus nearly wipes out my hypothetical $25K budget (I'd sell my kidney for the right one), but why not roll the dice on a slightly rough '69 Spitfire with the leftover cash? Spitfires are cool, too, and they offer the open-air motoring that the Lotus doesn't. I would have to Uber to the grocery store… and probably everywhere, since I'd have a garage full of old British cars. I remain, truthfully, a lousy mechanic.
–Andrew Newton, auction editor
2007 Aston Martin DB7 Vantage V12 Coupe
Sold at Bonhams for $23,520
These big auctions are a great place to pick up used Aston Martins. There were several bargain-bin Astons at Monterey earlier this year, as well—one of the best buys there last year was a 1992 Virage that sold for almost one-third of its low estimate at only $22,400.
Scottsdale 2020 was no exception. A 2003 Aston Martin DB7 V12 Vantage with a six-speed manual sold for only $23,520. This price was below our #4-condition (Fair) value for this car and half the #2-condition (Excellent) value. The DB7 was never an instant classic, but I think the styling has aged well.
You can't go wrong with a 420-hp V-12 with a manual transmission, either. OK, to be fair, you can go very wrong with a $23,000 Aston Martin. Weiner told me he thought this car was potentially a ticking time bomb, and I didn't have the heart to show him the part of the listing where it literally says: "Please note, that there is a ticking noise appearing from the upper part of the engine." Gulp.
Deferring maintenance costs and just general fiscal responsibility, I don't think you could find a better car for under $25K. Worst case scenario, the engine blows up and I just sit in the driver's seat and make engine noises while throwing the shifter around. I'd even have $1500 left to get a cheap Craigslist Miata.
–Adam Wilcox, valuation analyst
1971 Oldsmobile Cutlass Supreme SX Convertible
Sold at Barrett-Jackson for $24,200
These cars are complete sleepers. The only way you could get a 455 in a Cutlass chassis without it being a 4-4-2 was by ordering the Cutlass Supreme SX. They were equipped with the 320-hp version of the 455—which is only 20 hp less than the standard 4-4-2—the heavy duty 4-4-2 suspension, and the 4-4-2 rear bumper which has cutouts for the trumpet exhaust tips. These cars were usually well equipped with creature comforts as well, making this one fairly comparable to a Grand Prix SJ or a Monte Carlo SS. The car that Barrett has is one of an estimated 357 convertibles produced, making it about as rare as it is interesting.
–Greg Ingold, valuation analyst
1973 BMW 2002
Sold at Barrett-Jackson for $12,100
This #3-condition (Good) 1973 BMW 2002 looks stock and is said to have been stripped to bare metal and repainted silver. It's also been wrapped in dark vinyl black with a Louis Vuitton pattern. There's blacked-out trim to match and later E30 wheels—the budget leaves $12,900 to remove the vinyl wrap, polish the trim, and paint the wheels. Underneath all that customization is a clean, serviceable 2002 waiting to be reborn.
–John Wiley, senior valuation analyst
1958 MGA 1500 Roadster and 1949 Kaiser Vagabond
MGA sold at Bonhams for $11,760
Vagabond sold at RM Sotheby's for $10,080
Cars worth 10 times this MGA's value were ignored at Bonhams' auction preview, because everyone wanted a closer look at the bare-metal Brit. Maybe it was the sheer novelty of an English roadster stripped of its paint like it was tapped for inclusion in the next Mad Max movie, but this humble little sports car drew serious attention. Apparently the hood, trunk, and doors are aluminum, which explains why they stand out visually from the surrounding steel bodywork. I think the car looks wicked—my move would be to clear coat and drive it as-is. Rowdy exhaust required.
That leaves plenty of money to play with in the rest of the $25K piggy bank and, in my view, it would be criminal not to spend it on the '49 Kaiser that went so overlooked at RM Sotheby's. It is deeply offensive to me that this '40s wagon-ish machine sold for $10,080, when a Zimmer Quicksilver crossed the block right afterward and sold for double that. I'd be the only Kaiser owner at a cars and coffee. Green is my color. That dashboard and aged, ochre-colored switchgear is just beautiful. And did you check out that wood-lined trunk? Perfect for a picnic, tailgate, or old-timey pheasant hunt cosplay.
–Eric Weiner, executive editor