Here is the coolest stuff that was for sale at Hot Rod Reunion
With nostalgia Top Fuel Dragsters and Funny Cars, the Hot Rod Reunion at Famoso Raceway makes it easy to think you were transported forty years into the past. The nitro-burning machines run in the 5.70s for the quarter mile, thrilling the crowds as they pull their 'chutes at 250 mph and coast to the turnouts. Past the last of the grandstands, between the finish line and the first turnout, lies the other reason to make the drive to Famoso: The swap meet.
The Hot Rod Reunion's swap meet is nowhere near the size of southern California's Pomona Swap Meet, but it gets rid of the filler and focuses on vintage speed parts and related gearhead goodies. Cast aluminum and magnesium share space with car magazines from the '50s and '60s. Take a look at some of our favorite finds that had us scheming about the possibilities.
The seller told us this odd small-block Chevy intake, bearing GM's Winters casting mark, was intended for marine use in a Chris-Craft boat. The carburetor mounting pad is severely angled and recessed so low the rear runners have to head uphill before entering the cylinder head ports.
These 15×8-1/2 five-spoke Torq-Thrust copies made by Appliance would be appropriate for a '70s-era muscle car build.
Is any garage complete without at least a few '60s car magazines in its library? Besides that, some of the drivers featured on these covers were in attendance, in case you wanted something for them to autograph.
The swap meet offered original owners manuals to properly fill the glove box of your '50s or '60s classic.
Need the correctly date-coded timing cover for your Ford V-8? Famoso has you covered.
Edelbrock's TR1 intake was one of their first tunnel rams. The huge ports had radiused entries that stood up above the bottom of the plenum floor. This could lead to fuel puddling which would make backfires disastrous. A mid-plate was added to prevent that from happening, you can see it's in place on the polished example.
You'll often spot complete intake and multi-carb setups. This is the legendary 3×2 found on Chevrolet big-blocks.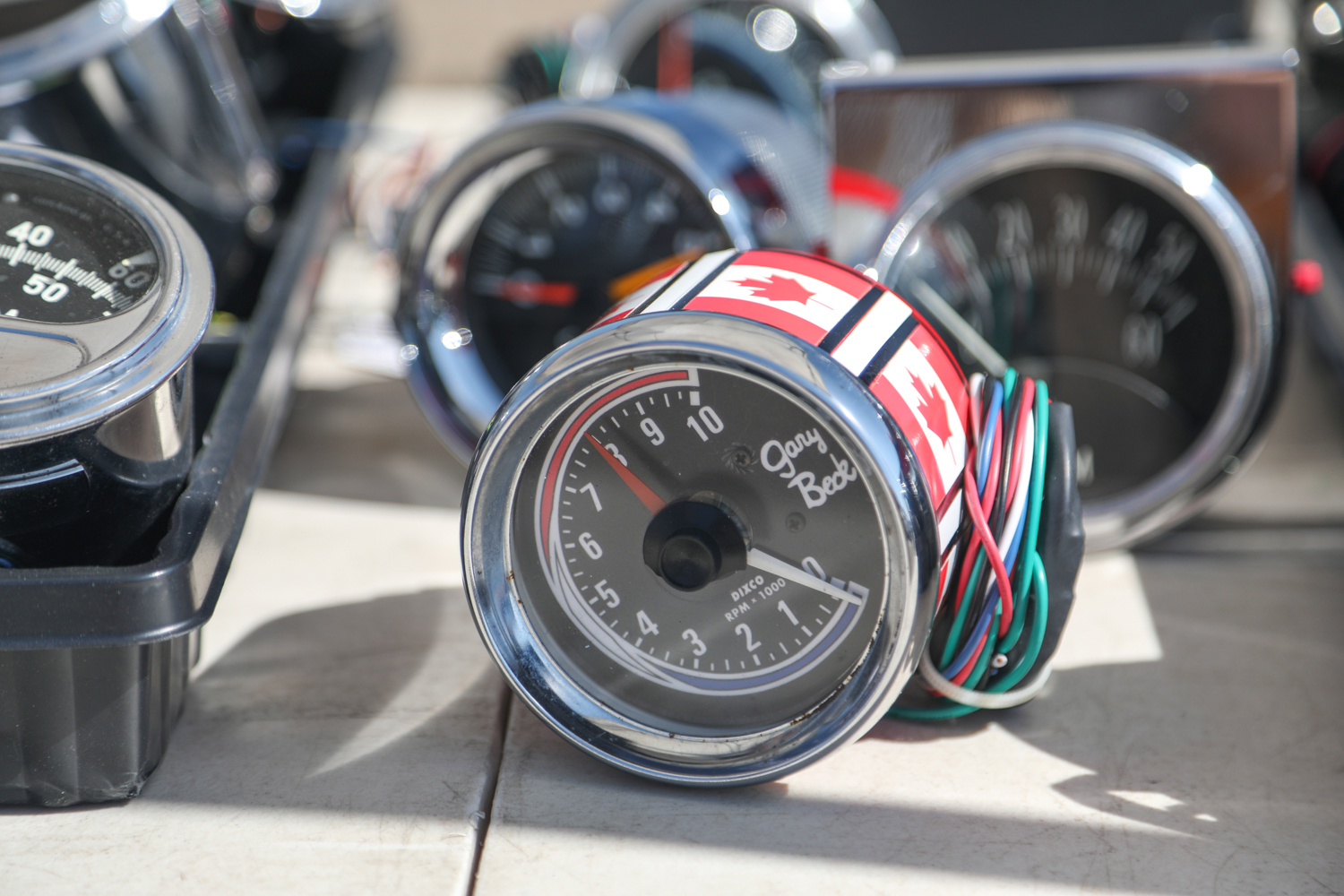 Dixco made a Don Garlits tach with an American Flag motif, this is the first version we've seen of the Gary Beck edition, its Canadian counterpart. It's perfect for a Beaumont.