9 great buys under $25K from the 2019 Arizona auctions
If you just read the biggest headlines from Arizona Auction Week, you might think that all of the cars for sale are perfect restorations of European coachwork, impossibly rare muscle cars, or charity auctions that drive prices sky high. In truth, hundreds of cars sold for fair prices that were sure to leave the buyer without a shred of remorse. We picked some of our favorite muscle cars, classics, and 4x4s to show a sampling of the well-bought cars from the 2019 Arizona auction week.
Sold for $5500
Lot 1685 (Barrett-Jackson)
The fourth generation is where Corvette really hit its stride as far as handling goes, and the later production models with LT1 V-8s gained back a lot of the straight-line performance that had been lacking since the '70s. Low mileage and rust-free (Corvettes may have composite bodies, but they still had steel frames), this California car would make an excellent weekender and could recoup its purchase price just by renting it out to a few Radwood participants.
1951 Dodge Power Wagon
Sold for $8250
Lot 6319 (Russo and Steele)
Perhaps the engine swap to a GM V-8 and four-speed heavy-duty automatic overdrive hurt its collector potential, it certainly upped its drivability with a healthy increase in power. Keep the hood closed and it would make for a very impressive Korean War prop or parade vehicle, and for a lot less than its smaller M38 compatriot.
1966 AMC Ambassador Wagon
Sold for $9900
Lot 366 (Barrett-Jackson)
This 287-powered cruiser would leave the average family truckster in the dust as far as style goes. It has just a touch of wood grain and it looked to be in top-notch shape with its red interior. Want to stand out from the crowd on your next road trip? Here's your ride. Power Tour, anyone?
Sold for $11,550
Lot 6181 (Russo and Steele)
While it came with a wallop of torque and a mean, monochromatic look, the 1990 Chevrolet 454SS only had 230 horsepower and a three-speed automatic. A four-speed 4L80E overdrive came in 1991, along with more power. That left the 1990 model a bit lacking in the 454 SS hierarchy. This custom 1990 model solved that with a five-speed manual conversion and a supercharger force-feeding the big-block. It's not stock anymore, but you can bet it's churnin' out a lot more than 230 horsepower (and it's a whole lot more fun to drive).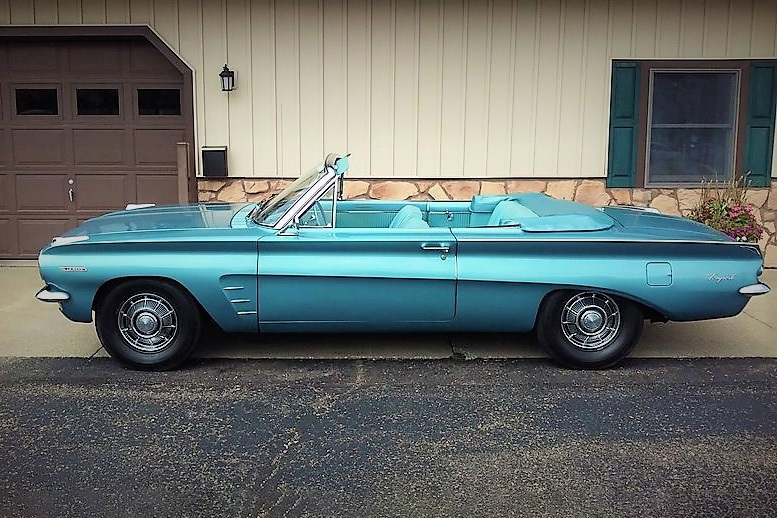 Sold for $13,750
Lot 376 (Barrett-Jackson)
How about a 326-equipped drop-top for under $14K? The Tempest LeMans' rear transaxle and independent rear suspension make it unusual, and you can tell everyone it's the car from My Cousin Vinny. This car is a year newer than the one from the movie, but unless you ran into a car buff like Marisa Tomei, you could probably get away with the ruse.
Sold for $15,400
Lot 153 (Barrett-Jackson)
Low miles, original condition, and packing a 350 V-8 and three-speed, column-shift automatic, and bench seat, it's not flashy and isn't totally original thanks to some modest engine upgrades, but its paint and body looked terrific. It could be returned to original spec with some swap meet scrounging for the right carb, or hot-rodded a bit for more fun. Either way, a solid car like this for $15K seems like a great buy.
Sold for $18,700
Lot 1520.1 (Barrett-Jackson)
Trucks often lead a tough life, especially 4×4 models. It was no surprise that such a clean example brought a solid price, as we've been noting that vintage pickups, especially 4×4 models, have been heating up.
Sold for $20,900
Lot 643.1 (Barrett-Jackson)
With its original paint in fantastic condition, this 301-powered Trans Am was an unrestored gem. It may be equipped with the smallest V-8 offered in 1979, but its four-speed manual will help wring all of the available power. Besides, you don't want to drive too fast, just enough to get your flow waving in the breeze. Give everyone a chance to see you driving this beauty.
Sold for $22,400
Lot 178 (RM Sotheby's)
Take Ford's smartly-styled '34 sedan, send it to finishing school, add four more cylinders to its flathead V-8, and you'd get the sleek, elegant Lincoln KA. It seems like a bargain for a rare pre-war American V-12 that oozes class.
Check out more sub-$25k budget buys from the 2019 Arizona auctions here:
1972 Toyota Land Cruiser
Lot 6464 (Russo and Steele)
Sold for $23,650
1971 Dodge Charger R/T
Lot 427.1 (Barrett-Jackson)
Sold for $22,000
1963 Ford Galaxie 500 Convertible
Lot 664 (Barrett-Jackson)
Sold for $20,900
2003 Porsche 911 Carrera
Lot 1520 (Barrett-Jackson)
Sold for 17,600
1967 Ford Fairlane 500
Lot 637 (Barrett-Jackson)
Sold for $17,600
1969 Mercury Cougar Convertible
Lot 144 (Barrett-Jackson)
Sold for $15,400
1972 Dodge Charger
Lot 132 (Barrett-Jackson)
Sold for $13,750
1992 Cadillac Allante
Lot 144.1 (Barrett-Jackson)
Sold for $12,650
1964 Ford Galaxie
Lot 404.1 (Barrett Jackson)
Sold for $11,550
1994 Pontiac Trans Am Convertible
Lot 1525.1 (Barrett-Jackson)
Sold for $11,000
2003 Ford Thunderbird
Lot 33 (Barrett-Jackson)
Sold for $8800
1973 Cadillac Eldorado
Lot 136.1 (Barrett-Jackson)
Sold for $7700
1979 Cadillac DeVille
Lot 12.1 (Barrett Jackson)
Sold for $4400
1995 Chevrolet Camaro
Lot 1505 (Barrett Jackson)
Sold for $4400
1983 Datsun 280ZX
Lot 614 (Barrett Jackson)
Sold for $4400
1977 Mercedes Benz 450SL
Lot 6048 (Russo and Steele)
Sold for $4400