The Ferrari F40 LM and 512 BB Competizione will take Rétromobile by storm
Before Audi, Porsche and Ford, Ferrari was the dominant force at the 24-Hours of Le Mans. One of the company's first major international competition successes was when Luigi Chinetti teamed up with Peter Mitchell-Thomson to win the 1949 race driving a 166 MM Touring Barchetta. Ferrari won again in 1954 and 1958, then had a string of six wins from 1960-1965, with the last race win coming with a 250 LM. After 1965, Ferrari continued to enter cars like the 512 S. When 5.0-liter cars were outlawed in 1968, the 3.0-liter 312 P and 312 PB entered, but they were not winners. At the end of the 1973 season, Ferrari left sports car racing to focus on F1.
After that, Ferrari entries at Le Mans were run by privateers driving cars based on the company's road vehicles. Given the brand's history (and Enzo's reputation) for doing things the other way around, with road cars based on race cars, Ferrari competition cars of this era have a distinct and somewhat unusual personality. Two of them are bound for RM Sotheby's Paris auction this week.
1980 Ferrari 512 BB Competizione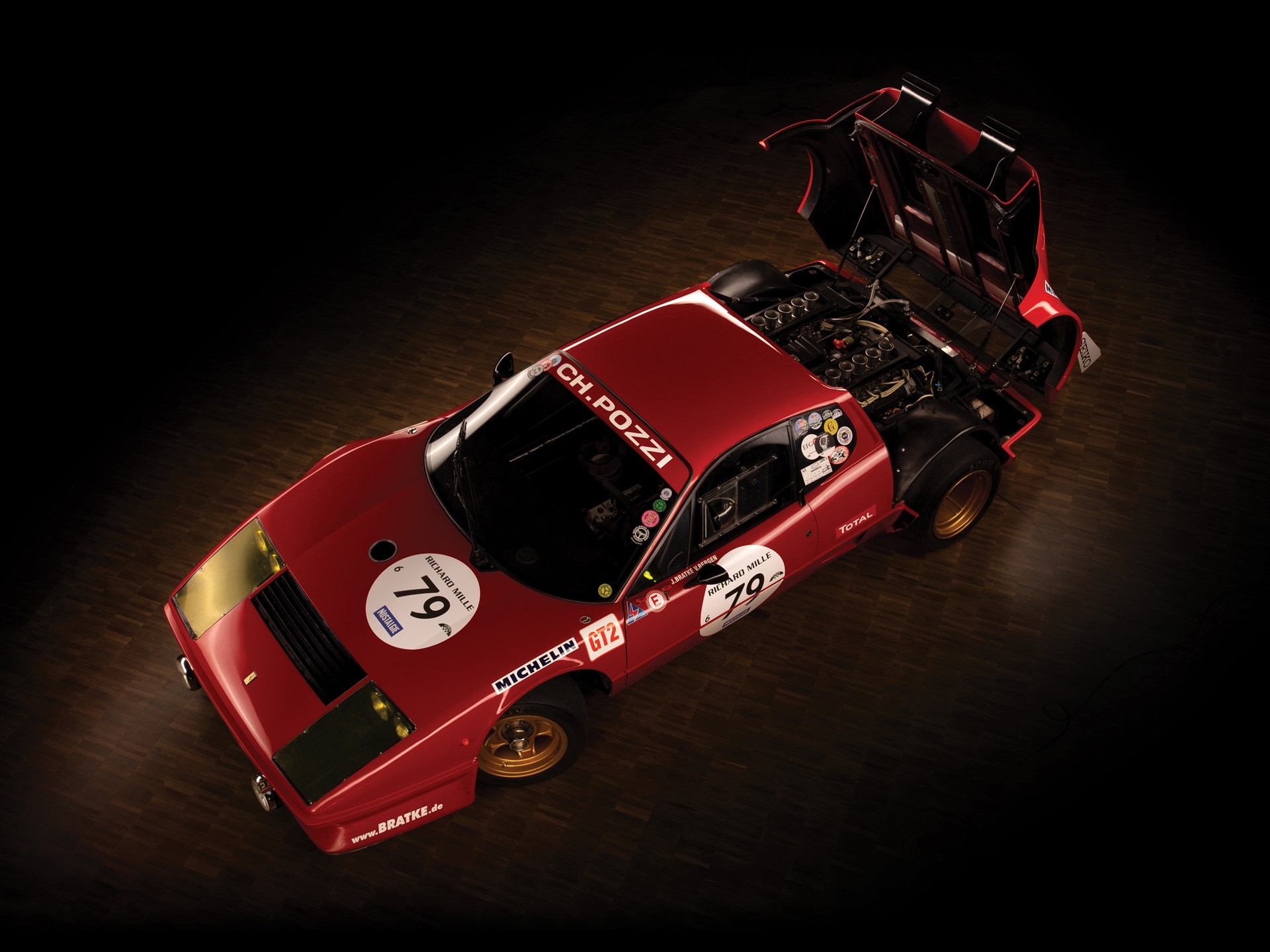 At the 1973 Paris Motor Show, Ferrari introduced the production version of its first mid-engine 12-cylinder road car, the 4.4-liter 365 GT4 BB. (The BB stands for Berlinetta Boxer, where Boxer loosely refers to the flat boxer like 180-degree V-12 engine.) In 1975, Luigi Chinetti—now in charge of North American Racing Team, and Ferrari importer for the U.S.), raced a 365 GT4 BB-based car at the 24 Hours of Daytona. By 1978, Ferrari had its version of the car ready but now based on the latest variant 4.9-liter 512 BB.
The result was called the 512 BB LM. Ferrari helped experienced teams like Charles Pozzi (Ferrari importer of France), Ecurie Francorchamps (run by Jacques Swaters, Ferrari importer of Belgium), and NART to run it. Ferrari continued to develop the BB LM (notably the aerodynamics), which no longer closely followed the design of the road car. Ferrari also introduced a "Le Mans Kit" that owners could purchase and fit to their road car for racing, without replacing all the bodywork.
RM Sotheby's Lot 191 is one such car. Ordered new by a founding member of Ferrari Club Deutschland, this 1980 Ferrari 512 BB s/n 31159 was fitted with the "Le Mans Kit" upon delivery. Raced in period in Germany, the car is now a historic racer with appearances at the 2016 and 2018 Le Mans Classic. The estimate is €395,000-€455,000 (or $491,000-$519,000), which is well above the #1-condition (Concours-quality) average value $305,000, but potentially represents a great way to go racing with a vintage 12-cylinder Ferrari at Le Mans. The record for a 512 BB competition car is $990,000, which is from Bonhams 2014 Quail Lodge auction; the car sold was a 1981 Ferrari 512 Boxer Berlinetta Bellancauto Le Mans racer that raced at Le Mans in 1981 and 1984.
1987 Ferrari F40 LM
The second Le Mans-spec Ferrari crossing the block at Rétromobile in Paris is also based on one of the company's road cars—in this case, the F40. Developed out of the snowballed 288 GTO Evoluzione that was intended for Group B rallying, the F40 was a no-nonsense, stripped-down, ultra-spartan speed machine. It still wasn't intense enough for French importer Charles Pozzi, though, whose team wanted an even more track-honed F40 LM to race in 1989. Ferrari was too busy building production cars and racing Formula 1 cars, so it went to Michelotto to build 19 examples of the F40 LM. Lot 126 at RM Sotheby's sale, s/n 74045 is a 1987 F40 prototype later converted by Michelotto to LM-spec.
Compared to the 471-hp twin-turbo F40, the F40 LM spits out more than 700 hp, courtesy of bigger turbos and intercoolers, upgraded fuel injection, and new camshafts. Michelotto also reinforced the chassis, modified the bodywork for even more extreme aero capability, and fitted the car with more powerful brakes, more track-focused suspension, and a more durable five-speed manual transmission. With the even more aggressively stripped-out interior, fixed headlamps (rather than the standard flip-up lights), and other weight-saving measures, the LM shaves about 700 pounds from the standard F40's 3000-pound curb weight.
Raced at Le Mans in 1995 and 1996, the car achieved the best result ever for an F40 at Le Mans by finishing 6th in class and 12th overall in its first outing. With an estimate of €4.5M-€5.5M (or $5.14M-$6.28M), the car also has a guaranteed minimum price. The record for an F40 LM is from RM Sotheby's Monterey 2015 auction, where s/n 97904 sold for $3.3M. Given the competition history of s/n 74045, the car is more desirable than the current record-holder, not only in the subjective sense, but also because it is being auctioned with a higher estimate and a minimum-price guarantee.
These two track monsters offer a unique taste of Ferrari racing history, and for fans of Ferrari road cars of the 1980s these are most certainly the most extreme and most capable evolutions imaginable. Here's to hoping both cars find a loving new home.