End of Summer Brings No End to Kruse's Troubles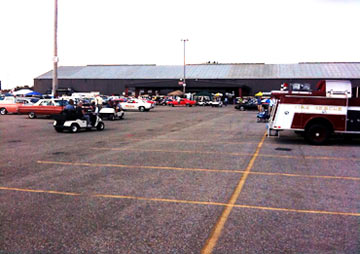 Editor's note: Kruse has not released overall figures for its Auburn sale. Jeff Sabatini was there and gave his observations as the auction unfolded.
It has stood proudly among the biggest – and in years past, best – collector car events held anywhere. But after four decades of Labor Day auctions held here in Auburn, Ind., Kruse may be facing the ultimate no sale. Legal problems have beset the venerable auction company in recent months, with detrimental effects easily observed during the first two days of this six-day affair. A paucity of quality consignments compared to years past would leave us questioning the potential profitability of the sale, even in good times.
But these are clearly not good times. The half-empty parking lots of Kruse Auction Park hint at the real story: According to the Fort Wayne Journal Gazette, Kruse faces legal actions in excess of $16 million. It seems that the various companies that make up the Kruse empire have had some trouble paying their bills, including the mortgage on the auction facility, American Express charges and other loans. Perhaps more disconcerting to car collectors is that Kruse's many creditors reportedly include more than 60 sellers who have yet to be paid for vehicles that were auctioned.
In his defense, company patriarch Dean Kruse told the Fort Wayne News-Sentinel that he is owed some $6.5 million from previous auctions and just needs to generate some revenue this weekend to keep the wolves at bay. Indeed, the Labor Day weekend proceeds are subject to court garnishment in order to pay the mortgage lender. Clearly, Kruse needs a great sale, however unlikely that may be. As of Saturday morning, the Kruse Web site lists 1,749 vehicles in its online catalog, far shy of a typically inflated claim of "5,000 cars." Firsthand observations confirm a sparse staging area and few truly marquee automobiles. To make money as an auctioneer you don't necessarily need particularly high-quality cars, but in that case, you do need numbers. This year, Kruse seems to have neither.
Truth be told, the auction has been on a downward slide for several years. In its heyday, Kruse was the ultimate playground for a Midwestern car nut. From the circus-like action in the auction rings to the dusty deals in the car corral out back, Labor Day weekend here was great family fun if your brood could stand the fumes. Once it was the best place in the world to buy a '69 Camaro and about the only place in a 200-mile radius you could see a real, live Ferrari outside of a museum. But that was then. Now there are still iconic Camaros here, but they tend to get lower billing than bad movie cars. And the only Italian Stallion in evidence yesterday began its life as a Fiero. If Kruse can right the ship and pay off its debts, that's only really the first step towards revitalizing the Labor Day sale. Better cars over fewer auction days would go a long way toward recapturing the magic.