11 hot cars to watch at at RM Sotheby's Monterey 2018 auction
All eyes turn to the Monterey Peninsula every August for a flurry of all things automotive, including some of the most high-profile auctions anywhere in the world. And of all the auctions in and around Monterey this year, RM Sotheby's is showing up with the most staggering lineup of cars. Over 30 of them have an estimate of a million dollars or more. Just about every consignment is a special car in one way or another, but highlights include significant race cars, lots of Ferraris, and once in-a-blue-moon buying opportunities for collectors. Here are the best of the best from RM Sotheby's Monterey 2018.
Pre-sale estimate: $9,000,000–$12,000,000
This is the car bringing up the rear in that famous photo with GT40s finishing 1-2-3 at Le Mans in 1966, when Ford finally ended Ferrari's stranglehold on the famous endurance race. In addition to a podium finish at Le Mans, it is also the only GT40 to raced with an automatic transmission, although that was a short-lived experiment. A similarly desirable Gulf-liveried GT40 that was also used as the camera car in the Steve McQueen film Le Mans sold at this same sale in 2012 for $11 million, so the estimate here makes sense.
1968 Porsche 908
Pre-sale estimate: $2,300,000–$2,800,000
Porsche really came to international racing dominance with the 12-cylinder 917 at the dawn of the 1970s, but the lighter 908 was one of the company's most versatile racing models with numerous engines and body styles that kept it competitive into the early 1980s. This one raced at Spa, driven by Vic Elford and Jochen Neerpasch for the factory, but crashed there in the rain. Eventually, it was tracked down and faithfully restored in the early 2000s. While it doesn't have the most enviable history, it's a works Porsche race car, and that's a big deal.
1953 Ferrari 250 MM Berlinetta
Pre-sale estimate: $7,500,000–$9,000,000
One of the great things about vintage Ferraris—especially from the 1950s—is that the history is so rich, the cars are breathtaking to look at, and there's so much variation because the company was focused on the needs of the race track rather than a customer base.
This 250 MM, for example, is one of just 18 cars bodied by Pinin Farina, and even though it was sold new in its home country of Italy, it soon made its way to Sweden where it was shown at the Swedish International Motor Show and then extensively used on the country's race courses. Even the ones made of ice. Its powertrain combination of Colombo engine of a Lampredi-style head and three four-barrel Weber carburetors (instead of the usual two-barrels) is also unusual.
1963 Aston Martin DP215 Prototype
Pre-sale estimate: $18,000,000–$22,000,000
For a brief period in the early 1960s, Aston Martin built a handful of streamlined and very quick GT racers, starting with the DP212 and culminating in the DP215. Just one DP215 was built, and although it didn't rack up any spectacular race results in its short career, it was the first car to hit 300 kph at Le Mans, nearly hit 200 mph on the Mulsanne Straight, and was quicker than the Ferrari GTO. The DP215 is speculated to potentially become the most expensive British car ever sold at auction, but to do that it will have to beat the $22,550,000 Aston Martin DBR1 that sold at this sale last year.
1954 Ferrari 375 America Coupe
Presale estimate: $3,500,000–$5,000,000
It may not be the prettiest thing on four wheels, but this 375 America is certainly unique and only a dozen 375 Americas were ever built in the first place, with just three wearing Vignale coachwork. Given one-off bodywork, it was shown at the 1954 Geneva Motor Show and made its way to its first owner Robert Wilke, a famous Indy car sponsor. The car's last appearance at auction was at this same sale back in 2011, when it sold for $1,980,000. The classic Ferrari market has clearly moved a lot since then.
1957 Porsche 550A Spyder
Presale estimate: $4,600,000–$5,000,000
The 550 was the first proper racing Porsche to give the company major success, and the 550A brought improvements like a stronger spaceframe chassis, better suspension, and more power from the famous four-cam Carrera engine. Porsche only built about 40 550As before replacing it with the 718, and this one has a colorful race history in the California SCCA racing scene. If you miss on this one, don't worry because Mecum has another 550A on offer across town.
1972 Ferrari 365 GTB/4 Spider Competizione
Presale estimate: $2,300,000–$3,500,000
The Ferrari Daytona was not designed with racing in mind, but people just can't help themselves and the model racked up a pretty impressive competition record in the hands of privateers. Only a handful of competition-spec Daytonas were built, and only one was a Spider. This car also wears unusual bodywork by Michelotti rather than Pininfarina. Built for Luigi Chinetti's North American Racing Team (NART), the car never actually raced in anger in period, although it has been used in historic events. Christie's sold it in 2001 for just $259,000.
1956 Maserati A6G/2000 Berlinetta Zagato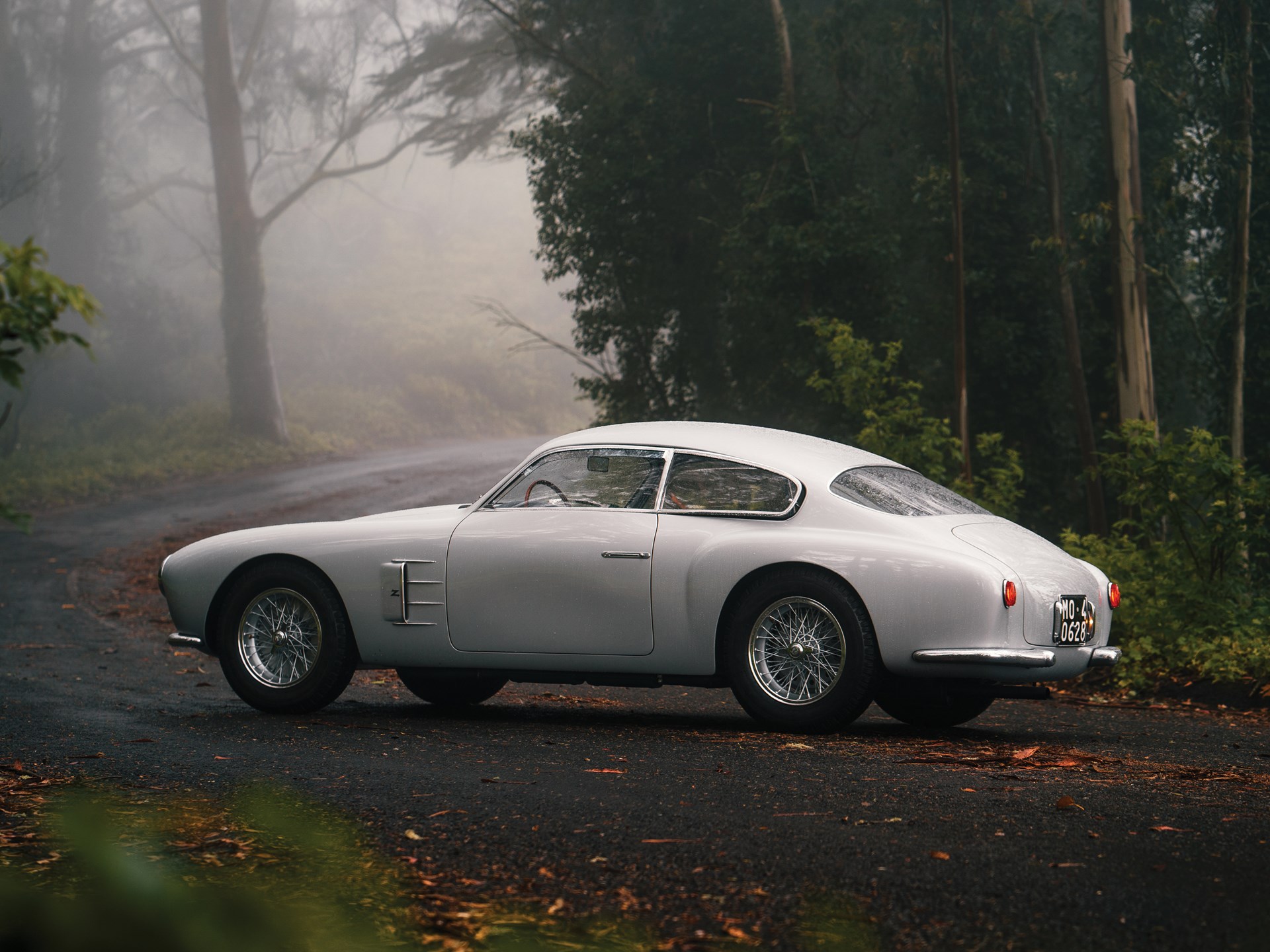 Presale estimate: $4,250,000–$5,250,000
For much of the 1950s, Maserati was still primarily concerned with racing. Road cars were a secondary concern, and were built in small batches. This A6G/2000, for example, is one of just 20 such Zagato-bodied berlinettas built, and no two are completely alike. Being a Maserati, it also took to the track in period and competed at the Mille Miglia in 1956. Recently restored, it has been shown at both Pebble Beach and Villa d'Este. In addition to all the provenance and event eligibility that comes with this car, it's also just a real work of art.
Presale estimate: $4,250,000–$5,250,000
Any child of the '90s who liked cars even just a little bit probably has a special place in their heart for the CLK GTR, which came out of that great period in racing that pitted it against the McLaren F1 and Porsche 911 GT1. It was the most radical thing with a Mercedes badge in decades and it brought the company two FIA GT championships. And with just 25 road cars built (for homologation purposes), it's rarer than a McLaren F1. In fact, the last one of these cars to sell at auction was way back in 2015, when a rare Roadster version (one of six) sold for nearly $2.4 million at Bonhams' Goodwood Festival of Speed sale. The much higher estimate here suggests that a lot has been going on with the market for these cars out of the public eye.
Presale estimate: $9,500,000–$12,500,000
At just about any other auction, this would be the star of the show, but when a 250 GTO is in the house, this car is almost easy to miss…almost. The 250 GT SWB Competizione is the car that preceded the GTO as Ferrari's racing gran turismo of choice, and it was a highly successful car in its own right. This 1960 car is one of 42 clothed in an alloy body. Surprisingly, it doesn't have a race history and doesn't have a matching-numbers engine. It also went to the RM Sotheby's all-Ferrari Leggenda e Passione sale last year, but failed to sell. Nevertheless, it's the real deal and could be one of the most expensive cars of the week.
Presale estimate: $45,000,000–$60,000,000
If this car meets reserve, it will be the most expensive car ever sold at auction, beating the $38 million achieved by another GTO in Monterey four years ago. The GTO is king of the hill when it comes to classic car values, and if anybody ever pays nine figures for an automobile in the future, it will probably be for a GTO. And with just 36 cars built, it's huge news whenever one comes to market. This is the third one built even though it wears a later Series II bodywork fitted in period. Like most GTOs, it racked up plenty of impressive race results, including back-to-back class wins at the Targa Florio in 1963 and 1964. The provenance makes it a more desirable car than the one that sold in 2014, but it's worth noting that another GTO reportedly sold privately earlier this year for $70M.