When Uncle Sam targeted import bikes to save Harley-Davidson
For many, the nostalgic twinge that drives us to seek things from our youth fires up a craving for 1980s Japanese motorcycles. And why not? The MTV decade ushered in a staggering array of exceptionally versatile standards, canyon-carving superbikes, quarter-mile-crushing muscle bikes, streetwise cruisers, and sporty "first bikes."
If you're below a certain age, though, coming across a model with a "700" in its model name might raise a flag when you also find a seemingly identical earlier or later model badged "750." What's that about?
A word pulled from today's news gives the short answer: tariffs. In a bid to help struggling Harley-Davidson recover from a near-death spiral 36 years ago, the federal government imposed steep tariffs on imported motorcycles with 700 cc and larger engines. Sales volume thresholds built into the tariff action essentially exempted lower-volume European bikes, making the tariff's real targets crystal clear: Honda, Kawasaki, Suzuki, and Yamaha.
While Japan's government was protesting the American move, its motorcycle makers were busy dropping shorter-stroke crankshafts into their 750s to bring them under the 700-cc tariff cutoff. (In the case of the 78-hp 1983 Kawasaki KZ750, a slight bore shrinkage dropped its 738-cc engine to 694 cc to become the 74-hp KZ700 in 1984.) Tweaks such as revised cam timing, higher compression, and revised gearing kept performance close to the 750s that they temporarily replaced.
Other circumstances also blunted the impact the tariffs had on motorcycle prices. Honda and Kawasaki shifted production of some bikes to their U.S. plants to avoid the tariff. At the same time, dealers were still working through inventory of models two or three years old that had piled up as a result of overproduction and overestimated demand. Those bikes, too, were tariff-free, regardless of engine size, and heavy discounting yielded amazing bargains.
Headwinds for Harley
In addition to self-inflicted problems, namely stagnated engineering and slipping quality, Harley faced growing headwinds from outside. In 1969, American Foundry and Machine, better known as AMF, bought Harley, adding it to a roster of sporting goods that included bowling equipment. Harley buffs prefer to forget that chapter in company history, but AMF was not entirely to blame for the bike maker's woes.
That same year, Honda introduced its pivotal 750-Four with a 67-horsepower DOHC inline-four, forever changing the course of motorcycling. The 750 touched off a horsepower battle among Japanese brands, with Kawasaki upping the inline-four ante with the 903-cc Z-1 in 1973.
As the Japanese manufacturers introduced more large-displacement models and touring bikes, Harley's share of the "heavyweight" category continued to slip. Yet, the company failed to introduce anything below its 883-cc and 1000-cc Sportster models to attract new customers. (Harley's Street 500 and 750 models arrived in 2014, three decades after the tariff episode.)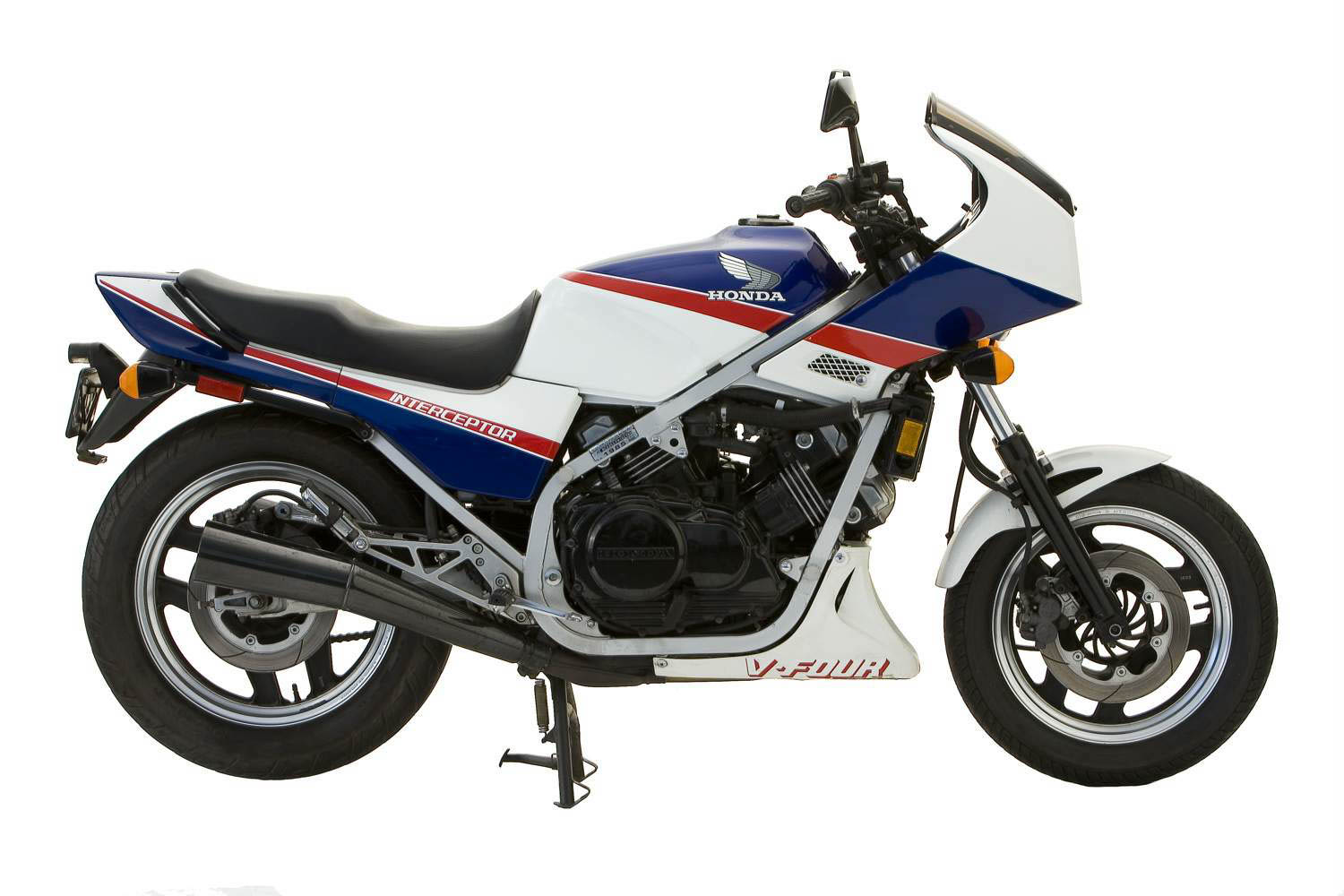 Competition among the Japanese brands, meanwhile, had kept their prices low—too low, some said. In the late 1970s, Harley presented evidence to the U.S. Department of the Treasury that showed Japanese brands had been "dumping" product in this market—that is, selling some models for less in the U.S. than in other countries. The government agreed there was some of that going on but declined to take action, concluding that the practice caused "no injury or likelihood of injury" to the domestic motorcycle industry. Meaning, of course, Harley-Davidson.
Price disparities aside, one could argue that buyers of Japanese inline-fours that could turn 12-second quarter-miles were unlikely to cross-shop a Harley at any price level. Yet, many emulated Harley's hot rod style with home-built customs. The factories noticed. Kawasaki's 1976 KZ900 LTD gets credit as the first Japanese custom/cruiser, but Yamaha was right behind with its Specials, and Honda brought out its Customs.
The market ate them up. Yamaha then opened the floodgates with its 1982 Virago, introducing the one ingredient that many import cruiser buyers envied about Harley—a thumping V-twin engine.
Uncle Sam steps in
Things looked bleak for Harley, but there was hope on the horizon. In 1981, a group of company executives purchased the company from AMF and charted an ambitious course for recovery. The plan included retooling factories, drastically improving quality, introducing a new engine, and adding new models.
All Harley needed was time. The company petitioned the U.S. government for help and got it. On April 2, 1983, President Ronald Reagan signed an action that significantly increased tariffs on imported motorcycles with engines over 700 cc displacement. Effective that month, the 4.4-percent rate then in place rose to 49.4 percent but was set to decline each year afterward: 39.4 percent in the second year, 24.4 percent in the third, 19.4 in the fourth, 14.4 in the fifth and then back to the original 4.4.
Tariffs didn't seem to hurt the Japanese makers, though they did need to adjust model mix and production to match demand. In 2009, the Japan-based Research Institute of Economy, Trade and Industry looked back on the motorcycle tariffs and concluded that it was Harley's own initiatives that boosted sales and saved the company—not the tariffs.
"This is primarily because consumers perceived that Harley-Davidson and Japanese large motorcycles were poorly matched substitutes for each other," the report stated.
But maybe they did something?
Having the tariff in place, however, might have comforted Harley's lenders. And, when Harley petitioned the government to end the higher tariffs one year early, it was not a magnanimous gesture toward the Japanese brands but more of a signal to the market that America's bike maker no longer needed government help.
Motorcycle buyers eventually paid more for all brands. The U.S. agreed to devalue the dollar against the Japanese yen in 1985, as that situation had been hurting many American businesses. Japanese bike prices rose as a consequence, while improving demand enabled Harley to raise its prices, too.
That's enough of an economics lesson for one day. Let's look at a few of those "tariff busters" versus the 750s they temporarily replaced.
Leaving tariffs in the dust
Dropping 50 cc or so from a 750 affected ultimate acceleration performance, but the results were likely to be seen or felt only in all-out drag strip runs.
Honda once again upended the motorcycle world in 1983 with the V45 Interceptor, a model designed for AMA Superbike racing homologation. But it became a sales hit and instigated a new sport bike category. The "45" was cubic-inch talk for a new liquid-cooled 748-cc V4 that kicked out 86 horsepower and took the bike down the quarter-mile in a blazing 11.67 seconds at 115.2 mph (according to Cycle World).
Two years later, its tariff-buster version, with 699 cc and 81 horsepower, did the deed in 12.44 seconds at 107 mph in the same magazine's hands. But the "loss" was not all that it seemed. Honda altered cam timing to boost midrange grunt and changed the final drive ratio to take advantage of it. It proved a delight for many riders.
"With both machines cruising at about 50 mph in fifth gear, a throttle roll-on will see the 700 walk away as if the 750 bike were chained to a tree," Cycle World said in its November 1984 issue. The $3400 tariff-free 700 Interceptor was also $800 less than the 750, which was imported in smaller numbers.
The performance gap was a bit narrower for the Interceptor's standard-style cousin, the Sabre: 12.16 seconds at 108.4 mph for the 1982 750 with 80 hp and 12.6 seconds at 106 mph for the 700 in 1985.
Suzuki was soon to steal headlines with its track-ready, air/oil-cooled GSX-R750, but its tamer air-cooled cousin was no slouch. The 1983 GS750E, with an 86-hp 748-cc DOHC air-cooled four, went 11.84 seconds at 112 mph for Cycle World, and its 1985 version, with 80 hp from 699 cc, was only slightly behind with 12.17 seconds at 111 mph.
Other mid-1980s developments suggested a middle finger to tariffs. Yamaha's $2900 1984 FJ600 signaled a smaller-displacement trend to come, with a 72-hp 598cc air-cooled four that matched the Honda's 700 Interceptor's acceleration. Honda's 1984 Nighthawk S sported an air-cooled 80-hp 697cc inline-four and flew through the quarter in 12 seconds flat at 111 mph. This shaft-drive standard/sport model was sold for three years in the U.S., and only as a 700.
Kawasaki's first GPz 750 in 1982 was a KZ750 modified with some tweaks to its 738-cc inline four, boosting output from 75 hp to 80. When an all-new GPz arrived for 1983, the '82 version was painted black and rebadged KZ750, and then a 2-mm bore reduction for 1984 turned it into the KZ700 tariff buster with 694 cc and 74 horsepower. The '82 GPz had run the quarter in 11.93 sec. at 109 mph for Cycle World, but the magazine said it was a prototype with additional cylinder head work said to be worth 0.2 sec. So, call the KZ700's 12.6 at 106 performance less than a half-second behind the 750.
Most riders would likely have never noticed the slight drop in performance of the tariff-buster 700s, since it was something more evident at the end of a drag-strip run than in everyday riding. When the high tariffs were gone, the motorcycle world had basically split into V-twin cruisers and more extreme sport bikes, with lightweight 600s also in the mix. The numbers that most people really missed? The lower prices of those over-produced 1980s models.