Infiniti at 30: The glorious beginning, ignominious present, and hopeful future
Thirty years ago today, on November 8, 1989, the Infiniti Motor Company began selling the Q45 sedan at U.S. dealerships. It was a very promising start for Nissan's new luxury division, which launched at essentially the same time as Toyota's Lexus. The two Japanese automakers hit the luxury-car establishment in its collective solar plexus, and nothing about luxury cars and how they are sold and serviced would ever be the same. Traditional purveyors of automotive luxury, performance, and prestige, led by the arrogant Mercedes-Benz, were initially dismissive of the upstarts from the Far East. The Lexus LS400, in particular, and the Q45 soon proved that the Japanese were very capable of competing in this arena—at prices that undercut the Germans by tens of thousands of dollars.
Despite the promise of the 1990 Q45, it hasn't been smooth sailing for Infiniti these past three decades. Hoping to reverse its recent sales slide, the automaker has big plans for its fourth decade ahead, most of them involving electrification. At a media event at Spaceport America in New Mexico last week, Infiniti announced it will unveil five new vehicles over the next three years:
QX55, a new crossover built on the existing QX50 platform, with aggressive new styling featuring a severely sloping rear end. Debuting in 2020.
QX60 replacement: The three-row crossover is Infiniti's bestseller. As represented in a CGI preview video, the replacement will be beautifully proportioned, with design cues seemingly borrowed from Range Rover and the Jaguar F-Pace crossover.
A flagship sedan that apes the Q Inspiration concept, with a variation of Nissan's new E-Power drivetrain which Infiniti is loosely calling "gas-generated electric."
A so-called "neo" sedan following the Qs Inspiration, also with the gas-generated electric setup.
A crossover, inspired by the QX Inspiration concept, offered either as a full electric or with gas-generated electric.
Vehicles No. 3-5 will be the first to employ Infiniti's new "two powertrains, one platform" strategy. This vehicle architecture allows for two variations of "e-AWD": either a pure electric application, with a large under-floor battery pack powering front and rear motors, creating all-wheel drive; or the gas-generated electric setup, essentially a hybrid system with a smaller battery pack that's paired with a turbo 1.5-liter three-cylinder version of Nissan's existing variable-compression gasoline engine.
In either case, the compact powertrains will allow Infiniti designers to rethink traditional luxury-sedan design principles, with roomier interiors, radically different exterior proportions, and higher seating positions. This new design direction is laid out clearly by the trio of sleek, futuristic "Inspiration" concept cars that Infiniti has unveiled recently.
The gasoline-engine powertrain is not a plug-in hybrid, and Infiniti hastens to point out that the gas-generated electric system is 100-percent electric drive; power from the engine goes not to the wheels but to batteries which power the electric motors, which in turn drive the wheels.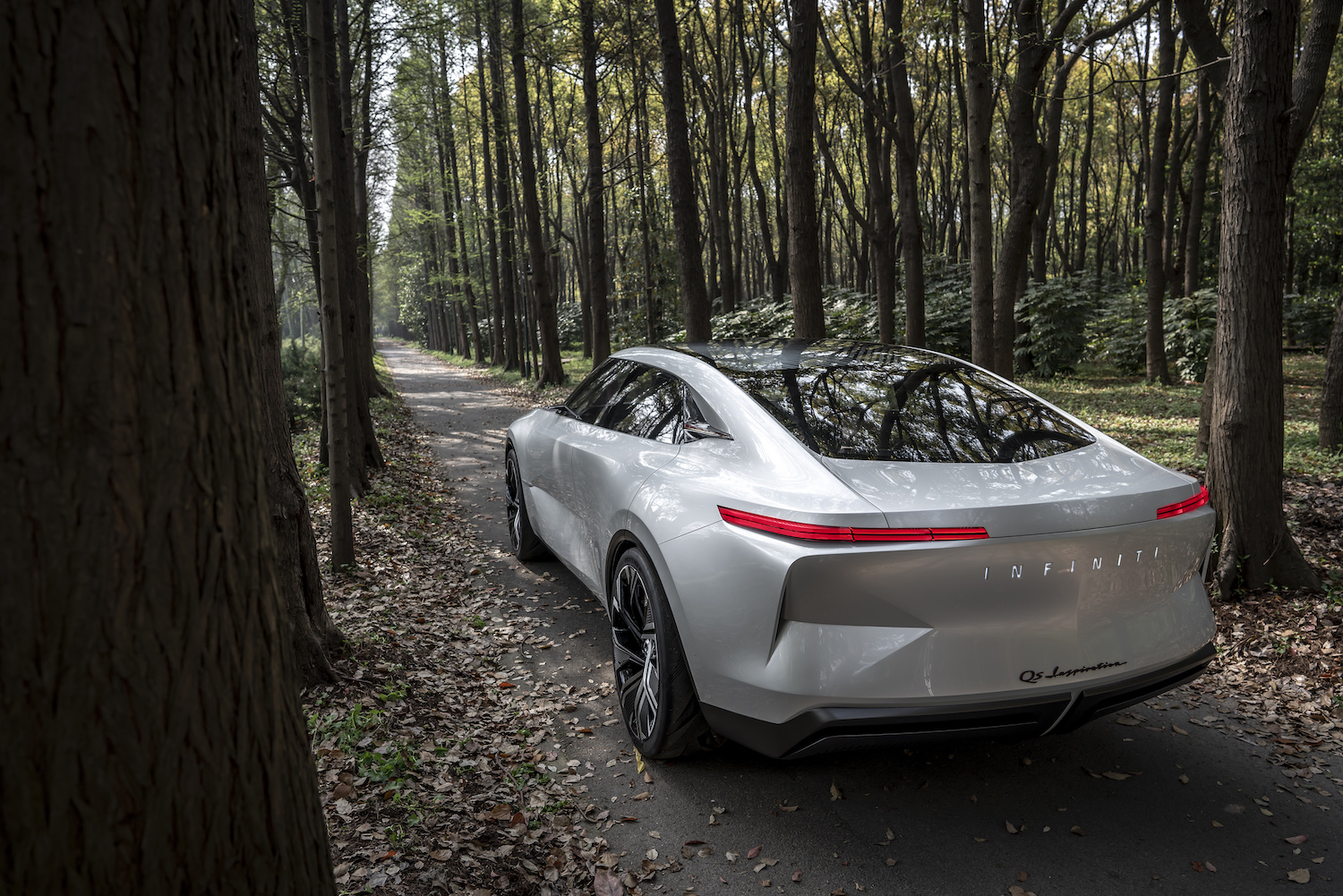 There's a lot of linguistic sleight-of-hand at work here. Infiniti wants to avoid using the dreaded "hybrid" descriptor; in consumer clinics, the company's marketers found it to be a dirty word, one associated with commodity Priuses rather than luxury vehicles. In fact, Infiniti is going to great lengths to disguise the gasoline engine's very existence, with plans to encompass completely both it and the electric motors to quell noise, and to employ what the company calls a "world-first independent mounting system" for the engine. (Which, by the way, Infiniti prefers to call a "gasoline generator." Tortured language, right?)
Infiniti isn't ready—or yet able—to go all-electric, so these two sedans are a stopgap measure meant to provide the instant torque and strong acceleration and quietness of an electric car, the attributes that so charm Tesla owners, but with a gasoline engine that extends range up to 500 miles. "Customers will barely be aware of the engine's existence," says Eric Rigaux, Infiniti's global general manager of product strategy and planning. Rigaux describes these vehicles "as a bridge to full electrification, setting the tone for our upcoming zero and ultra-low emission cars."
So the sales pitch is: Hey, Luxury Car Buyers! You can have all the attributes of an electric car, but with no range anxiety and no need to install a charger in your garage. When you hit the accelerator, you'll feel like you're in a Tesla. One catch! You still have to stop at a gas station. Right.
30 years ago: Infiniti's promising beginning
From the start, Infiniti took a different path from Lexus. Infiniti gave its Q45 a restrained, sleek, minimalist design, famously with no grille and no interior wood trim, even as it developed a stunning 278-hp, quad-cam V-8 engine and fine-tuned the car's high-speed handling. The Lexus LS400 more obviously copied the Mercedes-Benz S-Class in styling and refinement but with far superior build quality to anything the Germans were capable of producing at the time. From the beginning, the Q45 was widely known as the enthusiast's car of the two Japanese flagship sedans, the connoisseur's choice. A Japanese BMW, if you will. The attentions and obsessions of Nissan's engineers, tasked in the mid and late 1980s with creating a new luxury division that would offer automobiles that one would want "to take on an endless drive," bore fruit.
The big Infiniti certainly had lots of DNA from Nissan, which had spent the previous two decades charming Americans with innovative sports cars and sedans like the Z-cars, the Maxima, and even the Pathfinder SUV. That this company which had carved a unique spot in enthusiast hearts would now come forth with a high-performance luxury sedan that eschewed traditional Western thinking in favor of Japanese aesthetics, with an obsessive attention to every detail of design, engineering, and assembly, made all sorts of sense.
At speed in the first-generation Q45
It made perfect sense to me when I first drove a Q45 in 1990. I'd grown up in a small town in rural Michigan where my idea of a luxury sedan was informed by the big Cadillacs and Lincolns that people who'd "made it" were driving. Having landed an entry-level gig at a national car magazine that year, I was immediately exposed to cars, and ways of thinking about cars, that were utterly foreign to me. One weekend the gods looked favorably upon me, and the keys to a 1990 Q45t landed on my desk. (In truth, all the more senior editors at the magazine must have been out of town.)
On a cool Sunday morning in late autumn, I was at the wheel of the Q45 on my way to visit my mother when an empty stretch of interstate opened up, far as I could see, the oncoming lanes hidden by forest. I checked my mirrors, sat up straight in the Q45's smooth leather seat, grasped the steering wheel firmly, and buried my right foot. The 4.5-liter V-8 was clearly working hard but sounded happy in its increasingly frenetic thrum. In a rush I was at 100 mph, and the speedometer needle seemed to dig in for the long haul. One hundred and ten. One hundred and twenty. One hundred twenty-five. One hundred thirty brought me into a new realm, and I would have been happy with that, but that V-8 had more to offer. The Q45 was utterly calm and unflustered. My palms were sweating into the smooth leather of the steering wheel, cut from the same hide as the piece of leather surrounding the gearshift lever.
One hundred forty miles an hour, and then the long, slow, but inexorable climb to 150, which I touched, magically, for a few seconds before letting off on the gas. I'd gone somewhere I'd never gone before, in a car that could comfortably seat four adults and which looked like nothing else on the road. I was hooked, and thereafter forever took an outsize interest in the fortunes, or lack thereof, of the Infiniti Motor Company.
Straying from its mission
It's easy to recap the history. As groundbreaking as the Q45 was, and as unorthodox as its initial "rocks and trees" advertising campaign, which pointedly showed scenes of nature rather than a car, was, the Q45 remained an oddity. Panicked, Infiniti slapped on a traditional grille in 1993, but the flagship sedan would never be what it had been, and the second generation was so lost in its execution, Infiniti doesn't even mention it in its official history.
The slope-back J30 sedan continued to show that Infiniti would beat to a different drummer, at least stylistically, but by the end of the 1990s, when Lexus had gone from strength to strength and introduced the all-conquering RX crossover, Infiniti was lost.
Back on track
Redemption came in the form of two very different but complementary vehicles, the FX crossover and the G35 sedan and coupe, both in the 2002–03 timeframe. The FX was a game-changer, a high-performance crossover with aggressive, "bionic cheetah" styling, huge, 20-inch wheels, and a distinct sense of purpose. The G35, for its part, brilliantly capitalized on Nissan's new corporate F/M, for front/midship, rear-wheel-drive platform, which underpinned the resurrected 350Z sports car. I once conducted a comparison test between the G35 coupe and a BMW 3 Series, and the Infiniti came out on top courtesy of its more exciting driving style.
Recent struggles
In recent years, though, Infiniti has lost its way. The G35 morphed into the G37, which was still a desirable alternative to the 3 Series, Audi A4, and Mercedes C-Class, but the M35 and M45 sedans, attractive as they were, found no audience. The Q50 sedan which replaced the G37 suffered from poorly tuned electric steering at launch and although it's a much better sorted vehicle today, along with the Q60 coupe and its hot Red Sport 400 variant, the action for Infiniti has been in crossovers. That is particularly true of the three-row QX60, which launched as the JX35.
Present and future
If the traditional European and American luxury brands were easy targets for Lexus and Infiniti three decades ago—and they were—it's far more difficult for a luxury automaker to distinguish itself today. Infiniti, lacking the consistency in product execution that Lexus has enjoyed, struggles mightily to do so.
Today, brands like Hyundai's Genesis and Volvo's Polestar are the upstarts, and Infiniti has been lost in the murky void and utterly failed to cement itself in the collective consumer imagination. That said, Infiniti is not the only automaker struggling to define its electrification strategy, and although the brand's approach seems unorthodox, who knows? It might turn out to be just the unique selling proposition that the once-vibrant luxury marque needs to lift itself, finally, out of a second-tier rut.