These 3 rough Aston Martins could be the projects you need in your life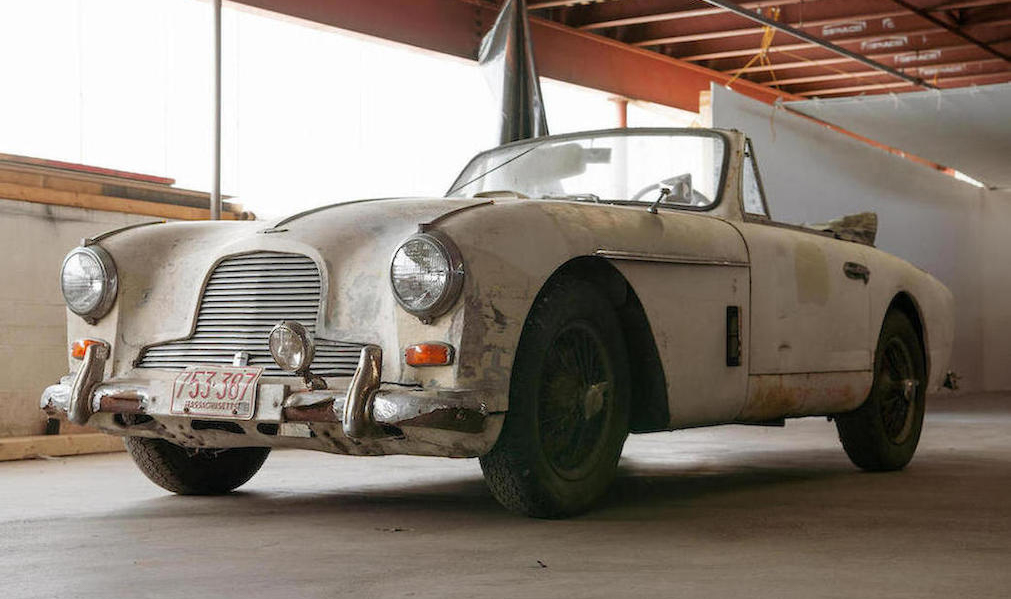 Aston Martin is a brand rich in heritage, known for its delicious balance of luxury, simplicity, sportiness, and distance-touring capability. It generally costs a pretty penny to adopt a prime vintage example for your garage, but for the adventurous—and perhaps extremely talented or well-connected—there is a chance to capture some rare Gaydon metal at a steep discount.
With all that said, you really have to be willing to play the long game with these rough-and-tumble Astons, which each require more than a little elbow grease or a satchel full of cash. Still, there's something endearing and intriguing about these cars, which are all headed to the auction block at The Aston Martin Sale in Reading, UK, on June 2.
Estimate: $53,000–$80,000
An early example of the DB2, built before the name change to DB2/4, this Aston is thought to have been used as a demonstration vehicle from new. It is an early "washboard" example, referring to the gilled vents for the front wings (which have since been deleted), and the original three-piece hood has been replaced with a later, more simplified version. The straight-six engine was also at some point upgraded to 3.0 liters from the original 2.6 liters.
All of that, of course, is the least of the concerns to a potential buyer. This car is in woeful need of a full restoration, and while the vehicle is rare, it looks like a nightmare to say the least. It was bought by the current owner in 1966 and driven for about two years before being garaged in a number of places, and the front-end damage occurred while in transit during one of the moves.
Values for DB2s range from an average of $184,000 on the low end to $486,000 for concours-quality examples. Given the amount of work this survivor needs it's unlikely the next owner will make any fast or easy money.
Estimate: $270,000–$330,000
Only 15 or 16 DB2/4 Mark II examples were built, and this car is particularly noteworthy as one of just six that came left-hand-drive and bound for export. It is an evolution of the earlier DB2, with a larger 2.9-liter inline-six good for 142 horsepower and 178 pound-feet of torque.
This car is a prime candidate for restoration. It was used as a daily driver by its second owner for about 15 years, until 1977, when it was deposited in storage with 84,037 miles. (The owner, an engineer, performed regular maintenance during that time.) There it rested until now, but if this old beauty sells, it could very well be a stunner on a concours lawn in the next few years.
On the low end, a '54 Aston Martin DB2/4 Mark II Drophead averages $338,000, and concours-quality examples command a stunning $602,000. While it looks very much in barn-find condition now, this topless treasure might be eliciting drools and wide eyes from a shiny restoration in the near future.
Estimate: $80,000–$110,000
As a successor to the DB6, Aston Martin had big ambitions for a car with a fresh new design and a beefy V-8 engine. Things didn't quite work out that way, though, and not everyone was thrilled with the 1967 DBS and its carryover six-cylinder engine. Still, it was a sign of better things to come, and the car's four full-size seats, independent suspension all around, and upgraded power steering set the foundation for better Astons to come.
This example, the 43rd DBS produced, would present a potential buyer with some decisions. It doesn't look to be in too bad of shape, although the original engine isn't in the car (it's included along with the sale, while a 4.2-liter Jaguar engine present under the hood), and the factory automatic transmission deducts an average of $15,000 from the value. Average price for a #4, Fair-quality example is $76,100, while a pristine, top-shelf DBS in #1 condition comes in at $230,000.
As Hagerty auction editor Andrew Newton points out, an Aston Martin DBS is expensive to restore, so depending on the condition of the included original engine, it might make more sense to just buy a turn-key car and not deal with the hassle.