30 stunning images of Japan's car culture
To say that Japan loves cars would be a massive understatement. On a recent trip through the Land of the Rising Sun, we saw that veneration for mechanical art of the automobile with our own eyes. It's not limited to museums or domestic brands. Despite new car sales peaking way back in 1990, Japan's automotive culture is alive and well. Here are some of the highlights from a recent trip. You can also check them out on our Instagram account.
Why should the Porsche 911 have all the Safari craze fun? Tucked away in Nissan's Zama Heritage Center (click here for the Japanese website), these ex East Africa Safari Datsun Zs have true rally pedigree and wear their dents with pride. Does it make you want to build an all-terrain Z-car tribute?
This car might look a bit like an Acura NSX, but it's not. Instead, it's a look at a Japanese supercar that never happened: the Nissan Mid-4 II. Equipped with a 330-hp twin-turbo V-6 mounted amidships, and all-wheel drive, this concept debuted in 1987. A production version might have been legendary.
You're not seeing things: that really is a 1973 Ford Mustang Mach 1 Cobra Jet wearing full Japanese prefectural police livery. Check out our story on the brief history of Mustangs exported to Japan.
Talk about big in Japan: this Escalade ESV wouldn't get a second glance in Los Angeles, but here it absolutely dwarfs the rest of the traffic and dominates the parking lot.
A sad little Lotus Europa looks like it needs a bit of care to get back to fighting strength. This one we found tucked behind a racing team garage at Motegi Twin Ring circuit.
Where it all started for Honda: the original auxiliary power unit converted from Allied radio generator to people-mobilizing moped in post-war Japan. The Honda Collection Hall at Twin Ring Motegi is a must-visit for any Honda fan, filled with hundreds of significant vehicles.
Not all the displays at Motegi's Honda museum are static. This NSX-GT raced in Super GT racing in the early 2000s, and features a 3.5-liter V-6 engine that makes more than 500 hp. During out visit, Honda's curators fired it up to the appreciation of the fans.
Daikoku parking area in Yokohama is a popular hangout spot for car enthusiasts, especially on the weekends. At night, the kids with glowing Lamborghinis show up. On Sunday morning, it's the classics crowd.
The Lamborghinis were here too this morning, some of them wildly modified. A herd of about a dozen rampant bulls were headed out for a run on the smooth, broad toll road that sits high above Tokyo.
The emperor of Japanese speed, the original Nissan Skyline was a force to be reckoned with on the racetrack. Called Hakosuka (roughly translated as Box Skyline) for their boxy shape, their high-revving straight six made them legendary. More than a dozen were out on this sunny day, ranging from carefully preserved originals, to modified screamers.
Japan's streets are filled with boxy little vans, which make a lot of sense given the tight side streets and limited parking. What makes less sense is the curious Japanese subculture where owners modify their vehicles to look like little Chevy and Dodge vans.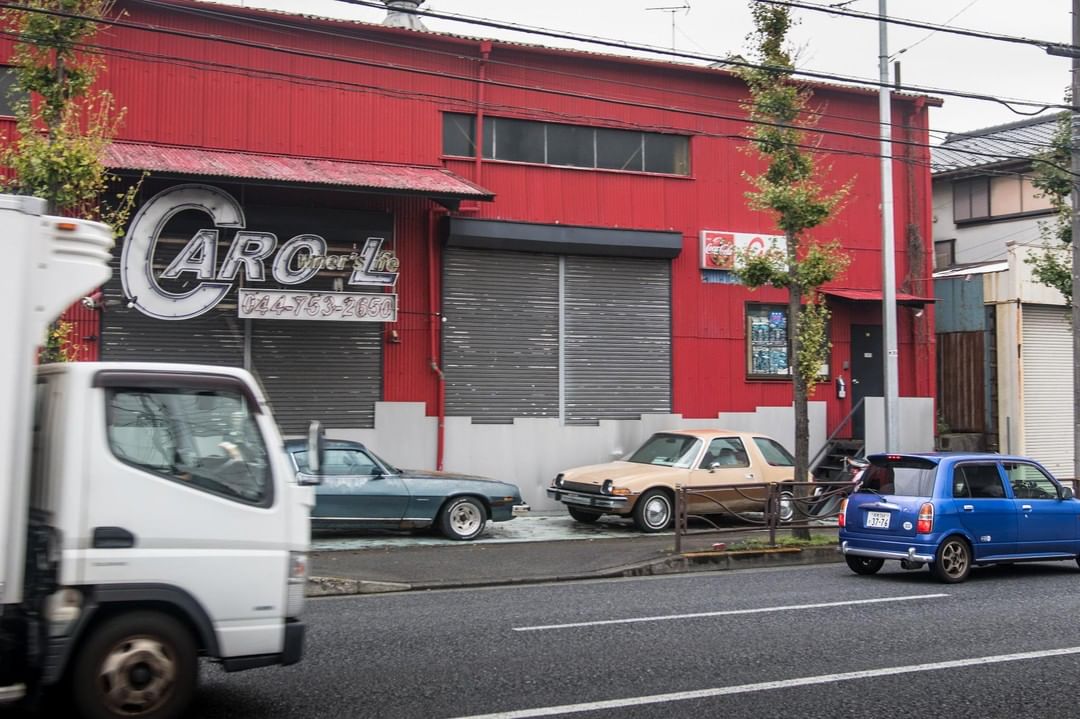 Even with Japan's strict road inspections and high road tax on older cars, you still see plenty of classic cars out and about in Tokyo and its suburbs. Still, you might not expect to see is a nearly-perfect AMC Pacer.
Maneuvering these big American land yachts around the narrow Japanese streets has got to be a real handful. The hot-rod Lincoln, on the right, still bore the faded paintwork indicating it had been part of a desert rally in Nevada about a decade ago.
Locked up tight near the trendy Shibuya shopping district, this flawless Volkswagen 21-window bus was well-cared for. A surprising number of classic VWs can be seen around Tokyo, always in left-hand drive.
Godzilla's lair! At Nismo (Nissan Motorsports) Headquarters, you can sit down with a tech and have your Skyline GT-R or Fairlady Z serviced and modified by the same people who build Nissan's racing machines.
Even if you haven't packed along your R32 Skyline GT-R in carry-on luggage, Nismo is worth a visit for its small museum. Here, mounted at the entrance, is the R390 GT1 racing car that competed at the 1997 and 1998 24 Hours of Le Mans.
This Lada Niva raises more question than it answers. How did it get here? Where does its owner get parts? Who would be willing to put up with Eastern European reliability headaches in a country filled with similarly boxy and capable tiny-SUVs from Suzuki and Mitsubishi? Enthusiasm of all types, even the inexplicable, can be found everywhere in Japan.
The Japanese road safety inspection process, Shaken, is known to be quite rigorous. Even so, well-heeled owners somehow manage to get all manner of craziness past the red tape. This is a Ferrari Maranello in full Japanese Grand Touring Championship specification, and following it is a Lamborghini Diablo SV-R, both racing-spec machines never intended for street use.
If you visit Hiroshima, Mazda has a small museum and factory tour that's very worthwhile. The rotary-powered Cosmo in the foreground is just one of the ways Mazda's innovative approaches helped keep this small Japanese marque afloat.
Without a doubt, this is the nicest first-generation Miata in the world. The first car from Mazda's in-house factory restoration effort, this 1992 Eunos Roadster (the Japanese home market name) has a little over 30,000 kilometers on the odometer, and has been through a complete disassembly and restoration process. Check out our in-depth story on the process.
Almost every Porsche 911 you'll see in Japan is left-hand-drive. It's not that the cars weren't offered in right-hand-drive specification, it's just that the enthusiast community prefers their European cars to be "correct."
No racing machine has ever screamed louder than the 1991 Le Mans winning Mazda 787B. Here at the appropriately-named Sound Of Engine historic races, all four rotors spun up to perforate eardrums in the best way possible.
Japanese car enthusiasts enjoy a very wide array of interests. In this photo, you can see everything from modern Alfa-Romeos to classic Triumphs to the Japan-only Mitsubishi EVO wagon variant.
Mini is a very well-respected brand in the Japanese market, and remains the top import even now. Japanese-spec cars were sold into the early 2000s, so importing a British 1960s version and converting it to more modern spec keeps the passion going.
This particular Mini has ditched its Rover engine for a 1.6-liter Honda VTEC engine and added a limited-slip differential. The Honda engine barely fits, and turns the pint-sized Brit into an absolute rocket.
Keeping things stock is not the Japanese way. This 1960s Nissan Skyline "Hakosuka" has a single overhead cam engine bored out to 3.2 liters and converted to fuel injection, mated to a six-speed transmission swapped in from a late-model Nissan Silvia. It makes more than 300 hp and revs to 7500 rpm.
Who would have thought that a humble Toyota Corolla would be one of the most famous and rare cars in Japan? This panda-colored Trueno wears the livery of Initial-D, a popular animated series about a young mountain racer. Analogous to the rear-wheel-drive North American Corolla GT-S from the 1980s, it's rare to see them now as so many have been wrecked on the narrow hillside roads.
No, that's not a Jaguar Mk II, it's a Mitsuoka Viewt. Neo-classic cars are quite popular in Japan, and Mitsuoka is the king of blending the old and the new.
A Formula 1 car sits ready to take to the track for a demonstration race at Sound Of Engine. The founder of Shadow racing, Don Nichols, made his start selling tires in post-war Japan.
This Countach is as rare as they come. It's the first of the three prototype built for Canadian racing legend Walter Wolf, who ran a F1 team in the 1970s, employing the likes of Jody Scheckter and James Hunt. It's the first Countach to wear those big 345-series tires and that iconic wing.