The Hatchback Hutch offered econo-camping across the compact fleet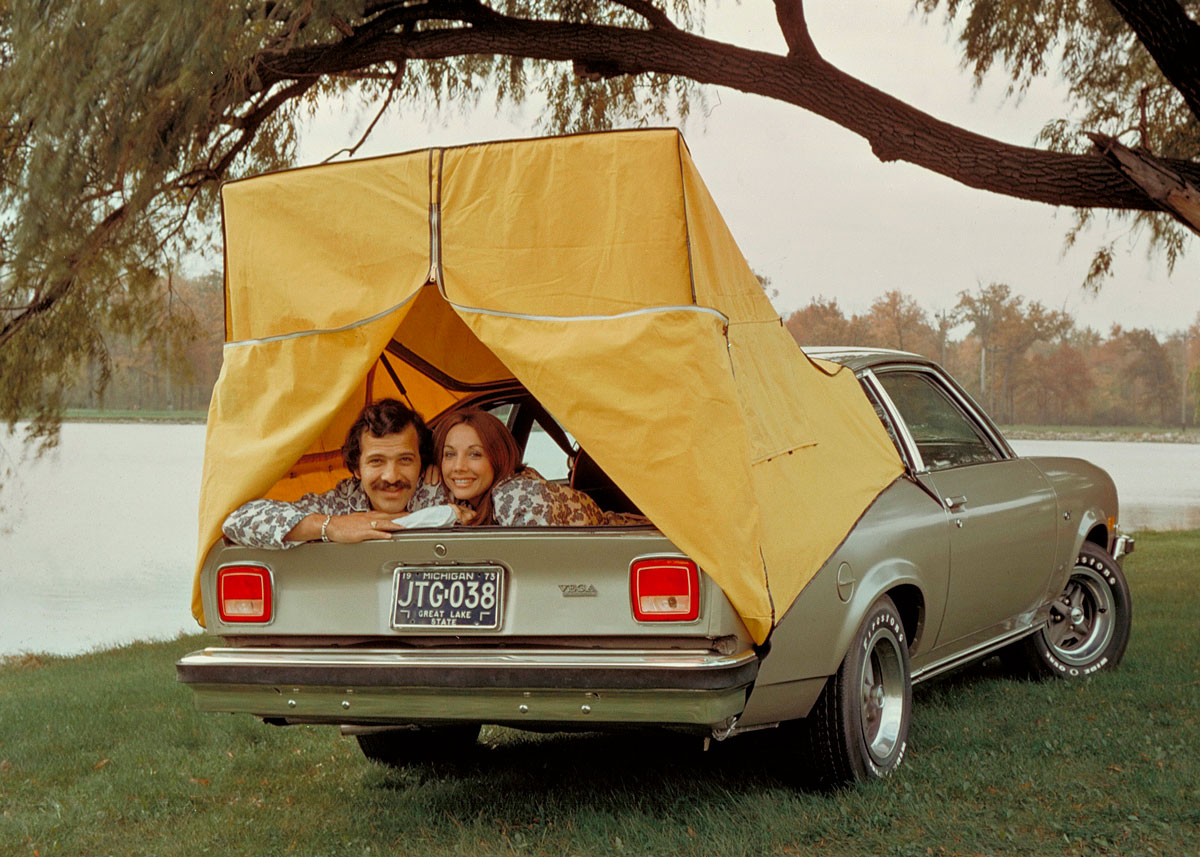 Attempting to lead the popular early '70s economy camping scene, Chevrolet equipped its entire compact fleet using proven camping technology. It provided options that effectively turned the compacts into budget recreational vehicles. Checking the right box on the options list meant getting a portable custom-sewn canvas tent attachment known as the Hatchback Hutch.
The Chevrolet Nova might have lost performance moving into the Seventies but it gained a third hatchback door for 1973 – a year that also saw the all-new compact Vega three-door and kammback wagon. Rounding out the compact economy fleet was the Isuzu-built Chevrolet LUV mini-truck. The Hatchback Hutch was available across the lineup, with a more spacious Vega wagon and LUV version as a bonus.
The Hatchback Hutch was also offered as an option across the range of brand engineered X-body models that comprised the Nova name. The Chevrolet Nova begat the Oldsmobile Omega that begat the Pontiac Ventura that begat the Buick Apollo. Together the model names' first letters spell out Nova and all of them were available with the optional econo-camping Hatchback Hutch.
The camping hutch wasn't just for hatchbacks. The 1973 Vega brochure rolled out the tent as a "tent-like" hutch and ordering up the hutch tent for the Vega Kammback wagon or Chevy LUV mini-truck meant getting what Chevrolet referred to as a cabana or "Kammback Kabana" for the Vega wagon. The Hatchback Hutch sleeping area measured 66×42 inches in the Vega, with additional length for the Nova, Kammback and LUV cabana versions.
The hutch-like tent converted the open hatchback lid into an airy camping compartment with more room for sleeping and other activities. More importantly the screen door of the hutch let in fresh air but kept biting insects, bats, and other small pests out of the econo-camping area. The hutches could be set up in a few minutes then broken down and stowed in their own carrying cases until the next econo-camping adventure.
General Motors was neither first nor last to the budget RV party. AMC equipped select Hornet hatchbacks with the ominously named Hornet Hutch. But GM did not give up on the camping hutch and it reappeared on the Pontiac Aztek, which much to collector car aficionados' disbelief is popular among millennials – camping hutch or not.
Little is known if the remaining stock of Hatchback Hutches were offered as an option or dealer accessory after 1974, but it does seem like an idea whose time has come again. The Hatchback Hutch meshes with the emerging connected casual camping trend and fits somewhere between the overlander crowd and the glamour camping, or "glamping," bunch. The Sonic Shack or Volt Vacationer could be the answer to contemporary compact car econo-camping, but it might be hard to top the Kammback Kabana.