Before he was the Bandit, Burt Reynolds gave cops hell in White Lightning
Burt Reynolds made giving lawmen hell his trademark in the 1970s, usually doing so in a cool car with a trunk full of moonshine. And before Smokey and the Bandit, Joseph Sargent's White Lightning set the precedent for his troublemaking.
White Lightning, released in 1973, is a "hick flick" starring a mustache-less Reynolds and a sinister Ned Beatty, with Hal Needham as its second unit director, stunt coordinator, and Reynolds' stunt double. Reynolds flirts, drinks, cries, throws punches, spends a not-negligible amount of time shirtless, drives like a demon, and, of course, gives the police hell. All the things Burt did best.
White Lightning has a beautiful, uniquely southern atmosphere: its color palette is lush green, Coca-Cola red, dirt, and shades of denim, and everyone in it lives with a permanent sheen of sweat and moves languorously to a soundtrack of banjo, dobro, and fiddle courtesy of Charles Bernstein. At the film's start, we find Gator McKlusky (Reynolds) doing time for running cars and moonshine. The feds let him out of prison so he can help them gather evidence—under the guise of bootlegging—so they can build a case against J.C. Connors (Beatty), the crooked sheriff who runs Bogan County and killed Gator's brother Donny. Beatty's character could easily be a cartoon villain; instead, he genuinely believes he's the good guy, using moonshine money to pay his employees a living wage, keeping his county safe from commies and disruptive long-hairs.
Gator gets a pretty good deal from the feds: he's free, he can avenge his brother's death, he can haul liquor, and they furnish him with a 1971 Ford Custom 500 for whiskey running. Gator's first order of business after leaving is to flip prison the bird, throw his tie and jacket in the road, and get in trouble with the Arkansas State Police, leading a cop on a high-speed chase purely for entertainment. Back home, he starts hauling liquor with Dude Watson (Matt Clark) and Roy Boone (Bo Hopkins), he falls for Roy's girl Lou (Jennifer Billingsley), and he tangles with the sheriff.
Gator McKlusky is hard not to like. He's a good ol' boy, a consummate driver, with that recognizable Reynolds laugh and thoroughly Southern charm. Connors, on the other hand, is a more formidable, crueler opponent than Buford T. Justice. He hates commies, protestors, and long-hairs, and he loves money and dispatching people in the lake. He killed Gator's brother because Donny knew the Sheriff was "nothing but a fascist pig mother stealing the county blind."
Connors doesn't like the look of this newcomer, but he can't help but admire Gator's car: "I'll bet this machine will outrun about anything, wouldn't it?" It's a car modified for bootlegging, outfitted with a 429 Police Interceptor/Cobra Jet engine, a four-speed Hurst manual transmission, Cooper Tire Wide Runner Polyglas tires, and a stiffened suspension. It's an ideal vehicle for burning rubber, keeping your moonshine safe, and giving the law a bad time.
The chases in White Lightning disturb the peace and the police, feature exhilarating driving by Reynolds (and Needham), mischief making, and a supremely satisfying finale. Gator taunts a highway policeman as soon as he leaves prison, taking him for a ride through town just to feel his new freedom, to see what his new car can do, and he loses his tail easily. During White Lightning's second chase, Gator wrecks one cop car in a lumber yard and eludes another when he jumps 63 feet from the dock to a moving barge, and he lands at an angle, the car's nose up in the air, it's rear end in the water. He makes a successful getaway, but damages his beautiful Ford's undercarriage.
The destruction of the Ford was a mistake, the product of a misunderstanding between Needham and the barge captain, which nearly resulted in tragedy. Needham told the barge captain to "firewall that thing" when they shot the stunt, not realizing the captain had only been using three-quarters of the throttle during rehearsals. The only thing that saved Needham is his decision to "really give them a show." He stood up on the accelerator, going 80 mph. "When I was in the air, I said, 'This ain't going to be pretty. I hit the back of the barge with the front of my car, and it just stood it up in the air, and it just balanced right on the end. [Then] the back wheels were in the water. I was out of that thing in a heartbeat… Had that car fallen into the river—the river was muddy, deep, and swift—I would have been down in Louisiana before they found me." They were shooting in Arkansas. "If I hadn't been a show off, that car would never have made the barge."
White Lightning's centerpiece chase satisfies on two levels: as a fun standalone chase and as an act of vengeance. Sheriff Connors finds Gator at Sister Linda Faye's Home for Unwed Mothers, recuperating from a showdown with cops and moonshiners who were in cahoots with Connors. Gator escapes Connors in his Ford, and his driving is playful, clever, and mean, blinding Sheriff Connors with fury and making him stupid, using his hubris and hatred of dissension against him. At its start, an officer called Junior drives, with Sheriff Connors in the passenger seat, the world's worst backseat driver. Gator and Connors each show their true selves in this chase: Gator is crafty, determined, a pleasure to watch, and Sheriff Connors is nothing but unpleasant, shooting at Gator and yelling at Junior, even threatening to dock his paycheck.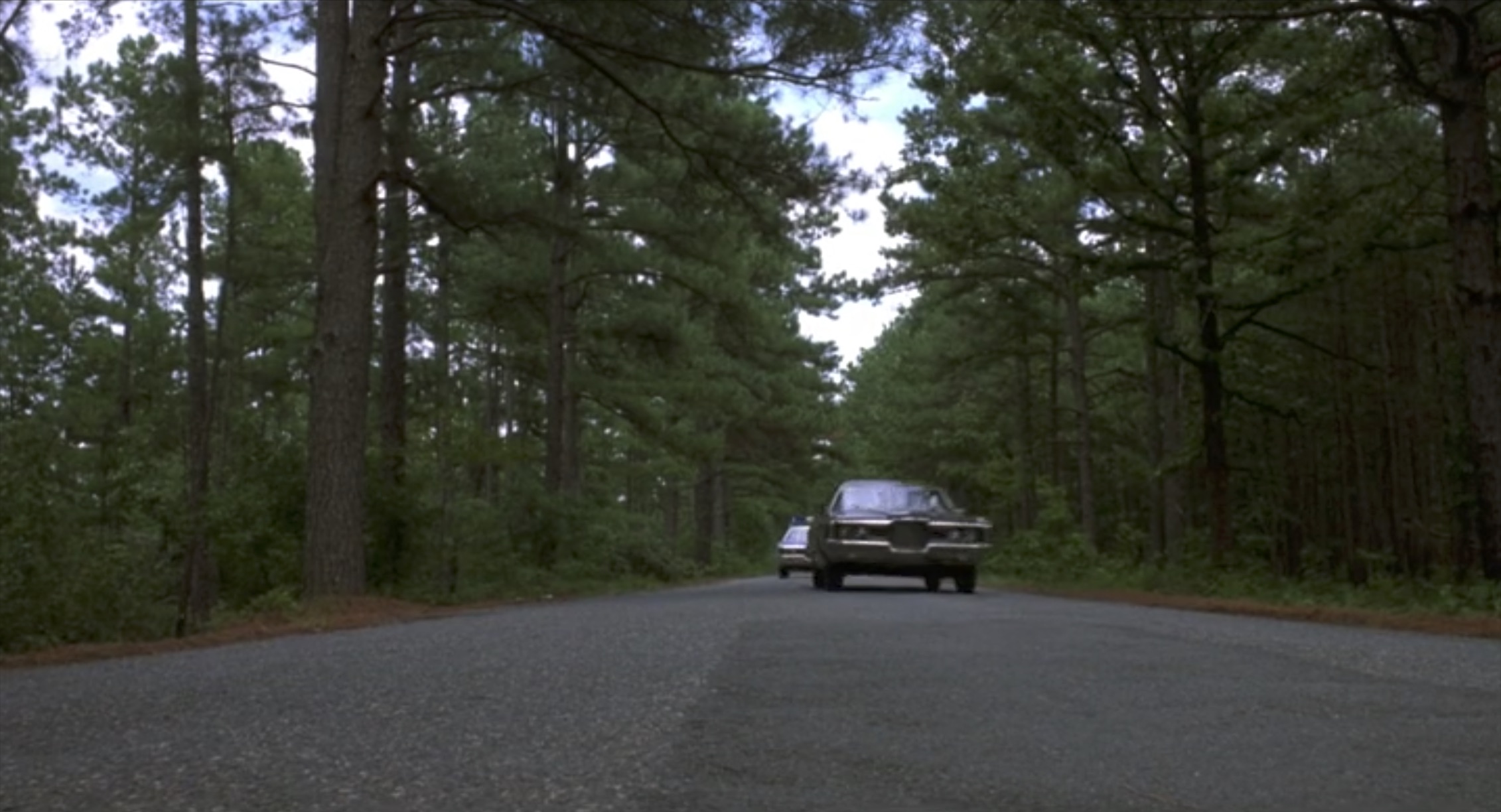 Gator kicks up dust and tears up a cornfield where he vanishes from view, then ambushes the cop car, plowing into its side. Backup arrives in an Arkansas State Police car, and when Junior loses control of the vehicle and crashes, Connors commandeers the other car. As soon as Connors gets into the driver's seat, Gator reappears to smash into the driver's side, and the chase is back on. When Connors loses Gator yet again, Gator is kind enough to stop, honk, and wave so the Sheriff can catch up. Gator speeds away, out of sight. Connors follows at full speed, only to find himself flying over the edge of an overhang.
Gator successfully dupes Sheriff Connors into crashing into the lake in slow-motion, burying him where he once drowned Donny and who knows how many others. Gator looks comfortable, even smug below the overhang as he leans against his car, a fine front-row seat to the sheriff's timely demise.
Although White Lightning is Smokey and the Bandit's predecessor, the stakes in Sargent's 1973 film are higher: Gator's motivation isn't just for kicks, it's to do what's right. Gator is a slightly more earnest, substantial character than Bandit, but he's just as much of a scofflaw. And the film's chases don't rely on fancy, death-defying stunts, just good old-fashioned fun and the satisfaction of seeing a bad man get his comeuppance.
Early in White Lightning, Gator says Sheriff Connors may run Bogan County, but he's going to "nail his ass" anyway. He keeps his promise.